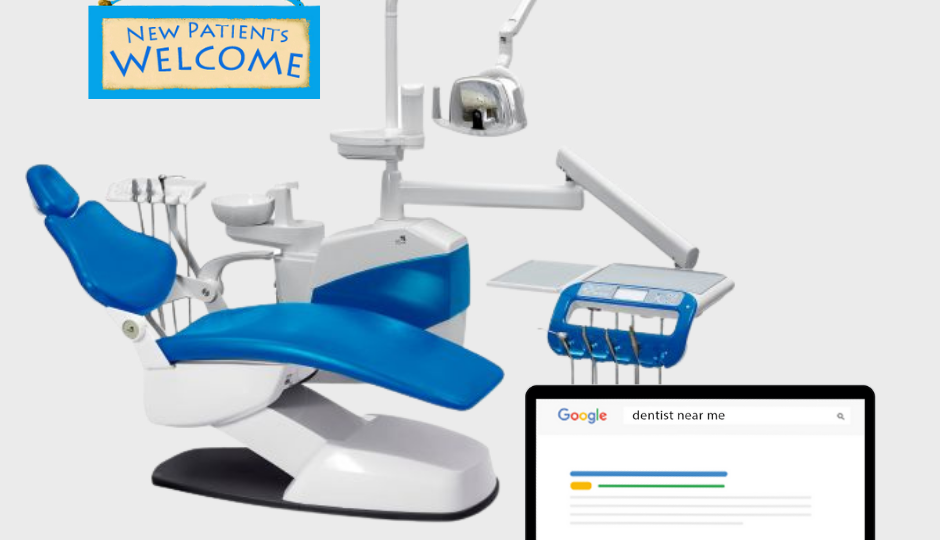 It takes time and lots of patience when opening a startup dental practice.  You are wearing many hats in the beginning handling different aspects.  For example, staffing, scheduling, inventory, insurance and marketing.  Once you're ready to open your doors, you will need new patients.  However, you will have competition from other practices nearby.  Therefore, finding marketing strategies that fit your budget and generates quality results will be key. 
PPC (pay-per-click) advertising
can be very effective when done properly.  Here are 8 PPC strategies that can help your startup dental practice.
Fundamentals of PPC
Pay-per-click (PPC) is a form of advertising where you can bid on dental keywords. If you have a winning bid, your dental ad will display on Google when people search for that keyword. Since the ads that display at the top of the page get a large amount of clicks, it's easy to see why PPC can be effective.
With PPC, you will pay Google only for the searchers who click on your ad. This means you are likely to receive leads from visitors that have a genuine interest in your dental practice.  You need visibility to grow your practice.  Therefore, PPC will help you get in front of potential patients searching for your services in a short time.
Create a Dental Keyword Strategy
Planning your dental keywords you would like to bid on is an essential step in your PPC strategy for your startup dental practice.  However, you must be careful to place broad keywords like "teeth cleaning" or "dental implants" because of their competitive nature.  General keywords like that can end up spending your budget quickly.  Therefore, it is important to include keywords that are most likely to convert.  Using your location with the keyword is effective.  For instance, "implant dentistry in Dallas" or "dental practice in Miami".
Narrowing your focus and using specific keywords will make your campaign work.  In addition, using longer keyword phrases can separate you from the competition and save you money.  Having a foundation for your dental keyword strategy is the first step to a successful PPC campaign.
Negative Dental Keywords
An important feature that can help keep your costs down is your negative keyword list.  These are dental keywords that you do not want ads displayed when searched.  Although they may relate to the dental industry, it may not be relevant to the target audience you are seeking.  For example, "dental school" or "salary for dentist" are not keywords your potential patients are typing in the search engines.  Therefore, the words "school" and "salary" would be placed on your PPC campaign's negative keyword list.
Campaign Structure
Creating a campaign structure is just as important as keyword research.  An effective campaign structure will help your budgeting, optimization, improving your quality score, and reporting.  Therefore, you will want to build a structure that is aligned with your goals.  As a startup dental practice, you will be focused on brand awareness and new patient bookings.  To accomplish this, you will want to segment your campaigns to meet these specific objectives.
Keeping your campaign organized is key to your success.  Some of the areas that will help manage this includes:
Campaign Type – Separate types of campaign for easier management.
Device Options – Test campaigns to see which device works best (mobile, desktop, tablet).
Bid Strategy – Configuring your bidding strategy for your goals will help ensure the success of the campaign.
Dental Practice Ad Extensions
Ad extensions will enhance your search ad with bullet points that highlight your dental practice.  These extensions will allow you to display these items in your ad.  For example, options may include phone number, address, callouts, and links to specific pages of your ad.  By showing valuable and relevant information on your ad, it encourages the user to learn more about your practice.
Another reason for having ad extensions is the fact that Google PPC ads will choose which extension to display based on customer intent.  Therefore, increasing engagement, click through rates (CTR), and conversions.  Ad extensions are easy to implement and do not cost extra.  It is a beneficial feature to use in your ad campaigns.
Dental Landing Pages
An important feature that any dental PPC campaign should have is the landing page.  A landing page has no navigation links that allows the visitor to leave without doing a call to action the owner wants.  The landing page looks like a website.  However, they work very different and can be extremely effective.   A well organized landing page should include the following:
A Main Headline
Description – A brief description of what the page is about.
Image or Video – Keep it simple with a compelling image or video that is relevant to the page.
Elements – Examples of customer testimonials, accolades, etc.
Contact Form – A brief contact form to collect leads that will include name, phone number, email address and short message. In addition, you may have a dropdown menu of services you offer that the visitor can choose from.
Optional – A dental practice may also have an appointment setter or calendar for patients to be able to book.
Phone Number (Click to Call)
As a startup dental practice, you will want to make it simple for people to access what they want when clicking your ad.  Therefore, relevancy is key.  Implementing a great, useful landing page will increase lead generation and conversions to your practice.
Location Based Ad Targeting
People searching for dental services online are typically going to look for a nearby office.  Utilizing geo-targeting will help you get new patients from specific town, city or country location.  However, there may also be areas you will not want to target to (negative locations).  Here are some examples on how to include geo-targeting in your PPC ad campaigns.
Include your location on your ad's headline
Use location extensions
Group similar markets into one campaign to optimize your budget.
Call-Only Campaigns
Did you know that in 2021, 56% of web traffic took place on mobile phones?  This is a great statistic for dental practices looking for call in appointments.  It's easy to generate this type of user lead since they are already on the phone while searching.  Therefore, it is important to include a call-only campaign in your startup dental PPC advertising.  A call-only ad will only show up on searches when people are on their mobile device.  The shortens the lead span in which the person just clicks to call and skips the form filling.
Some tips to use for your call-only campaign include running ads during your business hours, and develop call to action copy to encourage calls.  In addition, it is recommended to add call tracking to your campaigns.  Call tracking helps you with insights around your ad's performance.  And, it helps to monitor your staff for training purposes on phone etiquettes and general customer service practices.
Testing Your Dental Ads
A/B testing is key to a successful dental PPC campaign strategy.  By identifying your key performance indicators (KPI), this will help you make adjustments throughout your campaign.  For example, you should be tracking Cost Per Click (CPC), Bounce Rates, Form Submissions, Phone Calls and Keyword Quality Scores.  As a result, this will ensure your PPC efforts are doing what you intended.
In Conclusion
The ultimate goal of a startup dental practice PPC campaign is to generate new patients.  Therefore, working through these PPC strategies for your startup dental practice will help your launch into online advertising.  By partnering with a company that has experience and a passion for helping practices grow, you are on your way to achieving digital success.
Anytime Digital Marketing specializes in creating highly effective PPC campaigns for startup dental practices.  One of our case studies is Bonita Dental in Houston, Texas.  A brand new dental practice that opened in 2016 and continues to grow since with expansions.  Our proven strategies are designed to attract new patients and leads while keeping your costs low and return on your investment high.