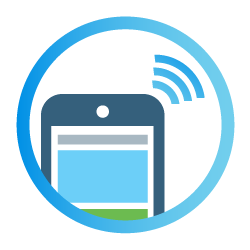 El digital era we live in today has created a new landscape for business owners to take advantage of. One of these new methods of marketing is mobile marketing. Mobile Marketing can propel your business, if you can avoid many of the mistakes that other fall into.
It's no secret that we live in a mobile world. Almost every adult and teenager have a smartphone these days. It's what makes mobile marketing such an appealing tactic. The widespread use of smartphones is on the path to dwarf the volume of content accessed by traditional platforms. This essentially makes mobile marketing a huge watering hole for your business. The amount of people you can target, and reach is increasing with every passing day.
We are rapidly approaching to the point where most businesses want to be taking advantage of mobile marketing and all of its uses. However, there some business that are running into some problems with their campaigns. This is understandable as mobile marketing still has some kinks haven't been worked out yet. To ensure that email efforts are the best that they can be, we've put together a list of some mistakes to avoid when running a mobile marketing campaign.
1.
Not Optimizing for Mobile
The wide availability of smartphones has made mobile marketing one of the best ways for businesses to target specific audiences. You can deliver personalized messages, deploy ads based on time of day or location, and even design interactive ads that encourage a huge amount of engagement from a specific demographic. However, some business owners think that just having a website is enough. Ensuring that your website is mobile-friendly leads to an increase in users interacting with your mobile ads. In fact, unique clicks are 15% greater on mobile optimized websites.
Without a clear call to action, you're leaving it up to your audience to figure out what you want them to do. Focus on your mobile ad's text, images, and design in order to steer your readers towards the main goal of your campaign. Then, before you finalize your ads, make sure your call to action is clear, enticing, and points the reader to the outcome you desire.
3.
Same Message for Every Customer
One of the most common mobile marketing mistakes to make is to send one message to all of your customers. Each customer has a unique way in which they interact with their
mobile devices. Younger demographics tend to spend more time checking social media instead of their emails, for example. Older demographics tend to do the exact opposite.
Understanding the benefits of the various channels that you can incorporate your mobile strategy with will help you to decide the best channel to use for your target audience
and the nature of your campaign.
4.
Not Educating Your Target Audience
Developing your mobile marketing strategy is just one piece of the puzzle. Informing your target audience on how to participate in your campaign is the other piece. Don't assume that your audience will eventually figure out the ins and outs of your campaign. While your waiting for them to engage, your competitors could snag them up by educating them on their own mobile campaigns. Your audience needs to know if you have an app they can use, where to get information about the campaign, and how to be a part of the campaign. This will help them to understand how your business benefits them. Also, make sure that the information you provide them is timely, accurate, and ideal for your target audience.
Everyone knows that all mobile phones come with a messaging feature. However, what some businesses fail to realize is the golden marketing opportunity that this provides.
When you start your campaign, make sure your integrating texts into it. SMS works as an efficient marketing channel because everyone is already using it. It's easy to start, use
understand, and it is a method that is already known to the population at large. You can also use texts in your campaigns to inform new customers about existing promotions,
or let everyone know about a new product or service you're offering. The other plus of SMS is that users who do not want these messages can opt out at any time.
Mobile marketing can be extremely beneficial to your business' overall success. There are some mistakes that can be made when running your campaigns, but that's okay. Hopefully, this blog can help you to avoid some of these pitfalls and start your campaign off on the right foot.