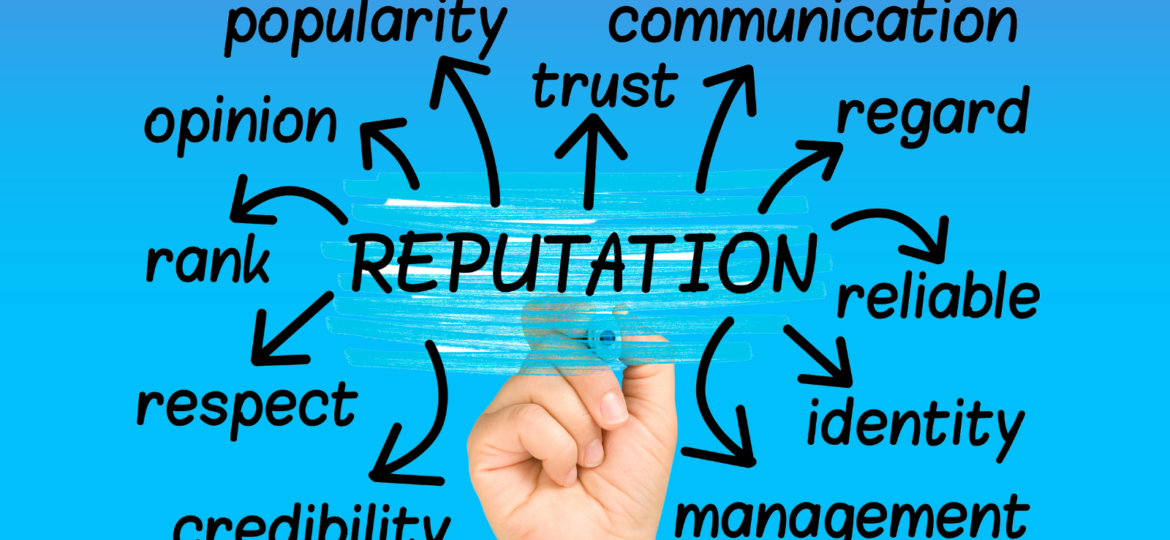 As a business owner, your reputation is paramount to success in an increasingly digital world.  Reputation management has become more important than ever before.  And, while it may have started as ensuring your company appears favorably online, its scope now extends much further today.  In 2023, businesses will need to be aware of the far-reaching implications of their online presence.  Therefore, assigning greater importance to reputation management in order to ensure they remain successful going forward.  So, how exactly can you go about doing this?  Lets explore why it's critical to understand how important reputation management is in the modern business landscape.  As a result, helping you ensure the future stability and prosperity of your organization.
Why reputation management is key to success in the digital age
In this digital age reputation management is an incredibly important tool for both small businesses and large enterprises to ensure success.  According to BrightLocal, 77% of consumers 'always' or 'regularly' read online reviews when browsing for local businesses.  Online management keeps track of an organization's reputation on the internet.  Therefore, mediating any negative comments or statements being made about the business.  Those who don't actively monitor and manage their reputation can be caught off guard by unforeseen damaging events.  As a result, bringing potential catastrophic consequences.  For instance, public scandals, customer complaints or low quality products/services can be extremely damaging for a business.  This can happen if a business fails to keep track of such threatening issues early on.  To stay competitive, businesses today need to regularly assess their online reputation.  Therefore, any potential pitfalls can be addressed before it spirals out of control.
10 Strategies for Protecting your reputation online
Keeping a positive reputation is crucial for any business.  Therefore, management should be an important element in any successful reputation protection strategy.  There are several ways a business can protect theirs online.
An up-to-date website
Creating and regularly updating a website is an important factor in reputation management and protection for any business.  A good website lets customers know that the business is reputable, established, and trustworthy.  In addition, it can help to showcase the positive elements of the company without having to say anything at all.  For example, having recent news releases, updates on upcoming events, or product information available in an easily navigable website helps customers feel better informed.  Furthermore, it adds to their trust that a company is reliable and open with its dealings with consumers.  Additionally, websites with plenty of content communicate processes clearly and provide clear paths for contact and customer relations.  This helps build reputation in ways that go beyond a simple advertisement and can be an invaluable aid for protection.
Positive social media campaigns
Crafting a positive
social media presence
is essential for businesses of all sizes today.  Companies must ensure that any social media campaigns are tailored specifically to the target audience, and monitored constantly.  Timely responses to feedback from customers or industry professionals play a major role in reputation management.  As a result, it protects both the business as well as its peers in the same space.  Responding immediately demonstrates additional care for customer interactions and builds trust.  Additionally, fostering relationships with industry professionals can build reputation among peers needed to become recognized in the space within a targeted niche.
Database management
Accurate database management is paramount when it comes to reputation protection.  Businesses should institute tight controls over who has access to the data contained in a database.  In addition, how this data is being used.  Furthermore, privacy policies should be put in place to ensure that the information contained within benefits the firm, rather than becoming a liability.  Also, it's important to have these policies so that customers know that their data is safe and secure.  Without taking charge on who has access to this data and enforcing clear limits on its usage, businesses can find themselves with serious damage they won't be able to recover from.
SEO Processes
For businesses today, it is critical to pay careful attention to
Search Engine Optimization (SEO)
practices.  Companies should ensure their website is structured in such a way that properly caters to SEO.  As a result, appearing at the top of search rankings on relevant topics relating to their product or service.  Doing this can help companies stay competitive and maintain visibility for potential customers.  Additionally, businesses need to take steps to protect themselves from damage caused by negative reviews.  If necessary, businesses can take corrective steps like responding to negative reviews, while offering a sincere apology.  In addition, provide remedies that might better the experience of future customers.
Join industry associations
Joining industry associations is a great way for businesses to protect and manage their reputation.  It gives the business opportunity to connect with peers, build trust with customers, reduce risks and more.  In addition, they offer training resources related that equip businesses with knowledge on how to handle different threats including lawsuits, customer surveys, and online critiques.  Furthermore, serve as a legitimizing factor by showing customers their brand is associated with reputable organizations in the industry.  This provides added assurance to potential customers.
Surveys & Feedback Forms
Surveys and feedback forms on websites are a great way to gain insight into the user experience.  They can also identify potential areas that need attention.  For example, survey questions may ask customers how satisfied they are with their most recent purchase.  Also, the clarity of product descriptions, and what website feature was the most useful.  Additionally, feedback forms allow users to leave opinionated messages about their experience containing useful information.
Companies can also adopt other methods such as focus groups and interviews to better understand their reputation in the market.  These tools are not only useful, they're good for analyzing customer behavior with pricing, discounts, products/services offered etc.  Ultimately, collecting this data will help businesses protect themselves from losing potential customers or revenue due to negative reviews.
Good customer service
Good customer service is integral for any successful business.  This creates trust, loyalty, and a lasting bond with customers.  Furthermore, it helps businesses maintain the reputation they desire.  Companies need to anticipate problems that may arise and provide protection against them in order to keep their rep rating intact.  Therefore, providing channels for customers to voice their feedback after a CSR experience can ensure a positive result.  Social networks are great platforms where they can easily give direct feedback.  In addition, surveys (as mentioned above) are effective tools for helping initiate conversations about the services provided.
Communications
Maintaining positive communications between a business and its customers is key.  For instance,
Correo de propaganda
campaigns are one of the most effective tools for businesses to market themselves without appearing overly pushy.  They serve as a platform to share fresh content or ideas.  In addition, they allow you to show appreciation to customers with exclusive deals or offers on special holiday occasions.  Finally, email campaigns provide an opportunity to foster meaningful relationships with their devoted supporters.  As such, it's essential for businesses to invest the time and resources into maintaining sufficient communication.
Crisis Management
A properly implemented crisis communication plan can be a powerful tool for any business when an unexpected event occurs.  These plans help businesses identify potential risks.  Therefore, allowing them to strategize ahead of time and prepare better for any unforeseen events that may occur.
A valuable example of this is General Motors who recently faced a massive recall crisis. They immediately announced that they had put a strategy into place with team members ready and able to handle the situation. Their strategy provided details on how the crisis would be addressed.  For example, contacting customers, establishing customer service numbers, launching social media campaigns, and other PR efforts. In doing so, GM successfully addressed the issue.  However, they also showed their immense commitment to reputation management by having the right crisis plan in place.
Monitoring brand mentions
Monitoring brand mentions involves proactively tracking conversations surrounding a business or organization.  It quickly identifies potential risks by detecting unfavorable remarks or damaging situations.  By utilizing tools to monitor ongoing conversations and notices of products, businesses can respond to threats and take necessary steps before damage is done.  Additionally, it enables them to stay informed about their industry rivals by analyzing what customers are saying about their offerings.
Examples of tools businesses can use to monitor mentions include social media listening platforms such as Hootsuite Insights or Sprout Social.  They can track comments on social media sites.  Also, on review sites like Yelp or Google Reviews for customer feedback on products or services.  Furthermore, some businesses enlist the help of reputation management companies to monitor their reputation online or engage in marketing campaigns.
Crafting a strong business brand
Crafting a strong business brand online is an essential element of reputation management.  It may take some thought and effort to shape your brand.  However, it can be incredibly rewarding in the long run.  When crafting a business brand, you want to consider your business's ideal target customer, any competitors in the area, and what does your services provide that is special and unique?  Each of these should help you explore different ways to create an engaging, memorable and trustable image for your company.
Examples of crafting your brand could include creating an eye-catching logo that visually displays your company's values.  In addition, building out relevant content on social media platforms.  For instance, posting current happenings in the industry on Facebook or hosting live Q&A sessions on Instagram.  Staying engaged with customers online will cultivate strong relationships of trust and dependability.  Therefore, benefitting both the company's reputation and its profitability over time.
En conclusión
With reputation management becoming more and more important, businesses must react appropriately to all online activity that may affect their brand.  Furthermore, they need to use effective strategies to protect and promote themselves more than ever.  Over the last decade, technology has continued to evolve quickly.  Therefore, making it easier for companies to manage their reputations with the right management tools and strategies.  For example, implementing techniques such as database management, brand monitoring and having a crisis plan can help lessen the damage of any potential incident.  Taking the time to create a well thought out strategy will save you countless headaches down the line.  Need help monitoring your company's reputation online? Reach our experienced team and learn more about how we can help.