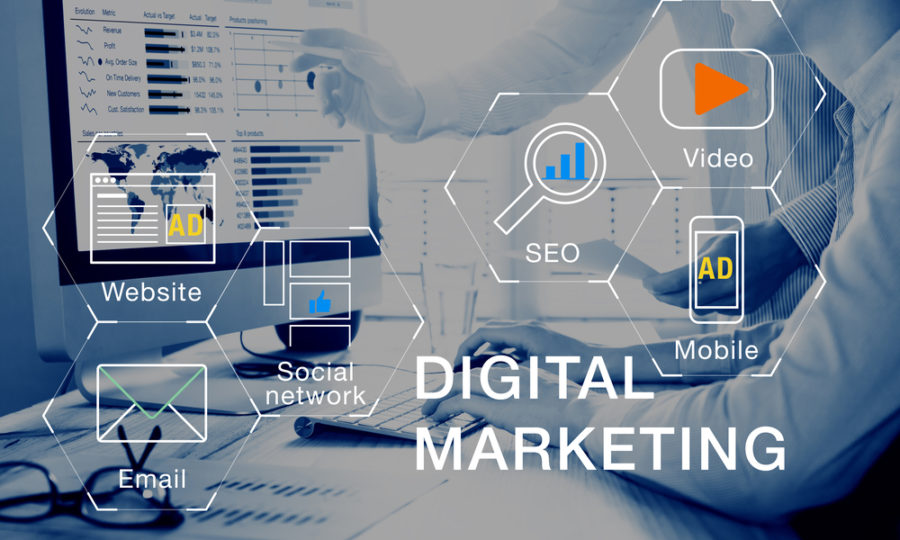 Have you had trouble reaching new customers? Are you not quite sure on how to reach new clients? Well, digital marketing could be the answer to all your frustrations. The digital age has made it easier than ever for business to be noticed on the internet. However, there are some business that are skeptical or curious as to how digitally marketing their business can benefit them. Well, today we're going to show you ten reasons why digital marketing can benefit your business.
1.
Digital Marketing Levels your Playing Field
Almost every big business these days has some kind of digital presence. Small mom and pop shops and some medium sized businesses are the ones having to play keep up. However, once you invest in digital marketing, you've already put your business on the same playing field that most companies are on today. This in turn, puts you ahead of all those businesses that aren't taking advantage of the digital age. It will also allow your business to target the same customers that large business and companies are able to target.
Have you ever been frustrated or concerned that you didn't have the advertising budget to compete with your competitors? Well, the good news is that digital marketing can be very affordable depending on what you're spending on. Ad spend on digital marketing is considerably lower than other forms of marketing. According to a report by Gartner's Digital Marketing Spend Report, 40% of business owners surveyed claimed they saved considerable amounts of money using digital marketing methods. Right now, it shows no signs of slowing down either. By 2021 digital ad spend is expected to represent a majority of all U.S. ad spend. Which means the sooner you start investing in digital marketing, the quicker you'll be on track with where advertising is heading, rather than jumping on the band wagon.
3.
It's a Sure-Fire Way to Get Conversions
One of the most important, if not the most important, priority of any business is gaining new customers. The three most popular methods of gaining conversions for your site are SEO, marketing de medios redes sociales, y correo de propaganda. According to HubSpot, these three methods generate the best customer engagement results and deliver higher than normal conversion rates. These methods that, when implemented correctly, will give your business a constant lead funnel.
4.
Digital Marketing is Flexible
One of the biggest draws to digital marketing is the different approaches there are. There are a wide variety of techniques such as banner ads, email marketing, content marketing, and social media posts. It really depends on the type of business you own and your goals when investing in digital marketing. With digital marketing you also have the benefit of testing out various techniques and see how well they perform. If one approach is doing so well, you can stop it immediately, see why it didn't work and either refine it or test another approach. The best way to utilize these vast amounts of techniques is to research your market, develop a marketing strategy, and see what method works best for your strategy and goals.
5.
You Can Interact with Your Target Audience
Using páginas de destino, call-to-actions, and other points of engagement allow you to reach your target audience in ways that traditional marketing can't. Digital marketing allows for real-time audience engagement. The benefits of which are increased customer satisfaction and retention, increased upsells and cross-sells rates, increased revenue through personalized offers and incentives, and more. So, a sales offer, call-to action, or a quick post can go a long way in benefiting your business using real-time customer engagement. It also allows you to see what your audience responds to specifically, which you can then cater additional sales, techniques, and more to their preferences.
6.
Optimization for the Mobile World
Its no secret that we live in an increasing mobile world. Now more than ever, people are looking at their mobile screens instead of flyers, billboards etc. With digital marketing you now have the power to reach these customers. Methods like geofencing and geotargeting are perfect for reaching those potential customers that are looking at their mobile devices. Also, mobile devices are influencing customers' shopping habits now more than ever. In fact, according to a survey by eMarketer, over 39% of people plan on shopping through their mobile devices on Black Friday this year.
Earlier we touched on how digital marketing allows you to engage with your customers and learn their buying interests, etc. Digital marketing also allows you to monitor exactly what your campaigns are doing and how your customers interact with them. You can monitor which ads and types of content they have seen shortly before they make a purchase. This lets you see what the best types of ads you're running are and further refine and improve your marketing efforts.
8.
Reputation is Everything
One of the best ways to grow your business is by managing your reputation. Online customers giving your business google reviews is an effective way to boost your SEO ranking. Reputation management is one of the ways digital marketing can help build the foundations of your business and elevate it to new levels. With an effective reputation management campaign, your brand reputation can go viral as expected, further opening new doors of opportunities for reaching bigger markets and attain business growth. Essentially, reputation management can become the new form of word-of-mouth.
With stronger revenues and better branding, digital marketing is able to give you a more powerful ROI than most traditional marketing avenues. Traditional forms of marketing are often too high priced and difficult or down right vague to monitor and track results with. However, as mentioned earlier, digital marketing is often cheaper than traditional marketing as highly measurable and easy to track the results of your efforts. The more you can generate steady traffic flow that leads to conversion and sales, the faster your ROI will become.
10.
Digital Marketing Lets You Embrace the Power of Social Media
Social media is a very significant component of our every day lives. So, chances are no matter what your business is, there's a social media following for it. A report by eMarketer shows that 2.34 billion people uses social media platforms regularly. Digital marketing helps you reach these consumers in a wide variety of ways. Facebook has highly sophisticated targeting options that let you reach consumers that who are the most likely interested in your products or services. Social media is also the best way of communicating with your target audience. Instead of one-way feedback, social media allows you to create meaningful, two-way conversations with your audience.
Digital marketing can greatly benefit your business. From leveling the playing field, to being affordable, flexible and more, now is the best time for you to take advantage of everything that digital marketing has to offer your business.