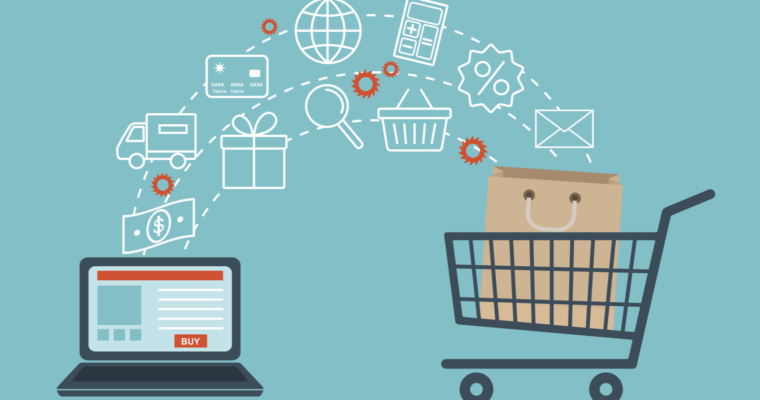 E-commerce has been a wildly popular business model for the past few years. Its easy to see the appeal in it. Open up a website, sell your products, and profit. These days it's becoming more and more simple for anyone to attempt an e-commerce business. However, because of this, there has also been a rapid increase of misconceptions and myths surrounding e-commerce. So, before you decide if e-commerce is right for you or attempt to start up your own business, we'd like to do things a bit differently and run through eight of the most common myths and misconceptions about e-commerce and how to avoid them.
Websites like Shopify, BigCommerce, Volusion, and more, are making e-commerce more accessible now than it ever has been. The ability to set up shop and get going right away has led to the mass appeal of these sites. Some people think that with these builders, it will be smooth sailing. In reality, e-commerce will have its own set of problems that need to be dealt with regularly. Everything, from customer service issues, charge backs that will require attention, and technical issues you need to get help to solve. As with any business venture, nothing's easy but it's very doable with hard work, dedication, and a little persistence.
One of the dangers of e-commerce is the fact that you can take care of everything yourself, therefore, it should be cheaper to run an e-commerce store than a physical storefront. The costs of running an e-commerce site can get pricey. You will be able to save money by doing much of the taskwork such as writing product descriptions, taking product photos, making the product, etc. yourself. Still, there will be hard expenses like your hosting bill, cost of goods, credit card processing fees, and what other aspects that are specific to your business. The best way to put it is to remind yourself that e-commerce is not a cheap purchase, it is an investment.
3.
Once the Website is Up, Traffic is Guaranteed
The misconception here and with online businesses in general is that once your website is good to go and live, you will immediately start getting orders. You'll have to work just as hard as physical stores to get your name out there. The need for good marketing, offers, sales, etc. is just as important with e-commerce as it is with any other kind of business. Because at the end of the day, e-commerce is still a business like any other.
4.
You Will Get Rich Quick
This seems to be the more wide spread misconception. I can even remember a friend of mine that started her own e-commerce business a few years ago. She thought that within the year, she would be making an insane amount of money. Needless to say, that didn't happen at all. Just with any business, it's a long-term investment. You could be making great money in the first year your e-commerce business is running. But that's extremely rare. Just be prepared to put a lot of work in at first so that you can be making profit later.
5.
A Great Product is All You Need
I know what you may be thinking right about now, "Having a great product is exactly what will make my business boom. It's the best way to make my business take off." Just hear me out on this one. While it is absolutely true to succeed in the e-commerce world, you need a fantastic product, it doesn't mean that it is all you need. The fundamentals of business are still at play here. You need to price your product competitively, develop a good marketing strategy, basically doing absolutely everything you possibly can do to market your product and business as effectively as you can. After all, what good is the world's best product if no one knows that it's out there?
6.
The Only Metric That Matters is Revenue
It's natural for businesses to understand the revenue that they are making. Revenue is the lifeblood of the business as it is the bottom line on paying staff, buying from suppliers and affording expenses. It is not by any means the only metric to keep track of. There are other KPI's (Key Performance Indicators) that you should be aware of as well. Following metrics such as search engine clickthroughs, conversion rate, and bounce rate will give you an idea of what's going on with your website, its strengths and weaknesses and how to improve your business so that you can generate more sales which leads to more revenue.
7.
No Experience Necessary
Now more than ever, people with all kinds of different experiences, skills, and credentials are leaving the traditional workforce and starting their own businesses. E-commerce is no different, however, experience will always help you and give you an edge versus starting from scratch. Try to get some knowledge in business, marketing, merchandising and branding. These are all great fundamentals that will make your life so much easier when starting your new venture. No experience at all doesn't make e-commerce impossible, just more difficult.
8.
All E-commerce Platforms are Equal
There are so many factors involved when trying to decide which e-commerce platform to use. Things like hosted or self-hosted, what specifics will your site need, etc. Hosted platforms will give you access to a professional support team, and the majority of site management is off of your plate, so you can focus on other aspects of your business. The drawback here is that these websites typically cost higher than self-hosted websites. Alternatively, self-hosted sites give you the freedom to design and express your website in your own way. The drawbacks here are that managing it is on you, and any hosting or technical issues will be yours to solve.
This blog is in no way meant to deter anyone from starting up their e-commerce business. Rather, we just want you to be aware of these misconceptions so that you can plan out your venture in the right way. Our top recommendations are to carefully plan out your venture, risks included, have realistic expectations, and be prepared to commit for the long-haul.
Done well e-commerce can be a unique, fun, and rewarding experience for anyone looking to take the first steps to starting their own business. With a little hard-work and dedication, your e-commerce venture can provide you and many others with a meaningful, and worthwhile living.