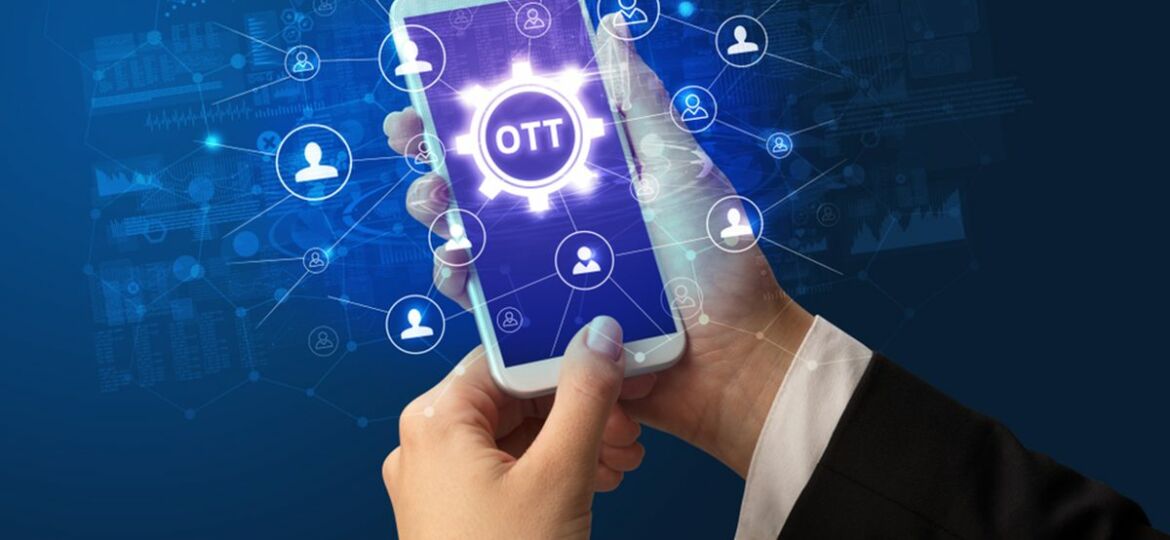 The world has changed in many ways since Covid-19 made it's appearance.  One of the main things we see now is how people consume their viewing content for TV and movies. In the past, viewers watched TV at the same day and time each week to watch their favorite programs.  However, today we have seen a major shift in how viewers consume their programs. 
OTT video advertising is set to have advertising revenues of $119 billion by 2023, which is 51% of all OTT revenues.
  How does OTT advertising work?  Hopefully, this article can answer some questions you may have in regards to this new digital medium.
What is OTT?
OTT delivers TV and movie content to anyone who has access to the internet by going over the top of broadcast television.  As a result, this means watching television content.  The viewer can watch their programs when it's most convenient for them.  Furthermore, not when an episode airs or premiers.  The viewers can watch from anywhere.  This includes homes, cars, hotels, work, and more.  In addition, they can view this from any device like phones, tablets, desktops, gaming consoles, Roku, Smart TV's, and more.  They can attain the programming from streaming platforms like Hulu, Sling and Tubi.  In addition, streaming apps like Peacock, Paramount Plus, HBO Max, Amazon Prime to name a few.  For example, if you viewed your favorite TV show in a hotel from your laptop, chances are you viewed an OTT video.
What's the Difference between OTT & CTV
The difference between OTT and CTV known as connected TV, is that CTV is the device that can connect to a TV or smart TV that features the delivery of streaming video content via the internet. For example, gaming consoles such as PlayStation, Roku, Amazon Fire Stick, Apple TV, and others.  Whereas, OTT is the process of watching content via internet stream (physically watching video content), while CTV is used to consume your OTT content.
OTT Provides More Viewer Variety
OTT gives viewers a personal choice. Viewers choose what streaming services they want to subscribe to, rather than being locked into the specific channels and contracts they receive from their broadcast TV providers.  With OTT, viewers can stream their preferred content on any device, at any time. In addition, OTT viewers have the ability to consume their favorite programs any date and time they want.
The Benefits of OTT Advertising
OTT marketing brings lots of advantages to the table for marketers to grow their organization's brand name.  Furthermore, by targeting a hyper-specific audience.  When Local businesses advertise in broadcast tv, their ads are served to an extremely broad audience, which constantly translates into their target audience in fact seeing their ads.  However, OTT advertising is different
OTT Advertising VS. Cable TV Ads
OTT advertising enables marketers to build a custom-made, hyper-specific audience based upon behavioral and contextual demographics. As a regional business, this is crucial to your marketing success. For that reason, with OTT advertising you can target homeowners straight through zip codes and other methods.  In addition, OTT advertising offers companies the power to target their perfect customers prior to needing your products or services. TV and cable television commercials serve your advertisements to countless unqualified audiences.
Guaranteed Ad Viewership
People watching OTT content are unable to skip ads, close their browser window, install an ad blocker, or byy changing the channel. Therefore, giving OTT advertisers a big advantage over those investing in broadcast television.  With OTT, the advertiser can ensure that their ideal audience member actually watched the entire ad.
Geographic Targeting
If you want to get more specific with your geographic targeting, OTT advertising is essential. On broadcast TV, your ad will be shown to a complete DMA (designated market area) that you chose to reach. Viewers in your DMA might be your target audience.  However, it will include some service areas that are not relevant for you.  In addition, OTT advertising allows you to choose specific ZIP codes where you want this ad to be shown, honing in on your target audience.  In addition, eliminating any unnecessary impressions from service areas you don't need.
Advanced Analytics
Getting in-depth data points from your marketing efforts allows you to make the best decisions for your company. Since all OTT content is taken via an internet connection, this means that you are able to receive detailed analytics on exactly how your ad performed. In addition, you can optimize your ads for better performance in order to change your strategy and re-engage with your target audience.
Guaranteed Targeted Impressions
Based on all the targeting benefits above, impressions will be guaranteed from an OTT ad. Furthermore, broadcast TV ads allows you to run ads shown to a projection of your target audience. Each impression from an OTT ad will be of higher quality.  This comes from the sophisticated targeting and data used beyond the scope of the broadcast audience targeting.
The Main Value of OTT Advertising
The main value for OTT advertisers is who the ad is shown to, not what channel they are watching.  With OTT, you can reach a specific audience demographic, not every consumer who lives within a 100-mile radius of your business. OTT delivers your ads to your best customers.
5 Reasons Why Local Business Should Advertise on OTT
1. Growing Viewership Trend of OTT
More and more people are cutting the cord to switch over to OTT content. As more users switch over, the need for more content providers to enter the OTT market is growing. Most notably services that offer free content in exchange for ad delivery.  These ad-supported OTT services will continue to increase as more people look to expand their streaming options without increasing their monthly ad spend. As a result, local businesses will continue to see their ad inventory options increase over time.
2. Improved Targeting Options for OTT Advertisers
OTT allows local businesses to truly narrow in on their target audience through a number of different sources. In addition, OTT advertisers can get specific with the prospective audience they create based on their existing customer base. OTT also allows businesses to target users on a number of different devices. Your ads are eligible to be shown to a user viewing OTT content on their smartphone, tablet, computer, or CTV device.  By honing in on your exact audience, that makes each marketing dollar spent more efficient.
3. Reaching a New Audience
OTT compliments other digital marketing efforts such as SEO, PPC, and social media. By focusing on the exact audience you want to target, you present your business to a new audience that you have never been reached before.  You place all these new prospects right into the middle of the marketing funnel.  In addition, you will see them convert through your other marketing efforts. As a result, making each marketing dollar spent more efficient and increasing your ROI. Not only does OTT advertising build up your local brand awareness, but it makes a direct impact in the number of leads your business is driving with other digital channels.
4. Detailed Data & Analytics
OTT allows you to get comprehensive analytics into how your ad campaign performed. Therefore, the data you can get from OTT allows you to better understand the impact your ad campaign had. As a result, allowing you to optimize budgets to determine which ad campaigns offer the greatest value to your business.
5. Higher Viewing & Completion Rates
Since viewers cannot skip OTT ads, install ad blockers, or change channels, the chances of your ad being watched completely are higher.  Audiences are okay with this because they prefer ad-supported content since they're getting it for free.
Anytime Digital Marketing is now offering OTT Advertising to Local Businesses
OTT is growing in popularity.  Therefore, OTT advertising is a natural complement to your digital marketing initiatives to create brand lift and increase sales.  OTT advertising is considered a digital product.  If you are interested in learning more about how OTT advertising can increase leads and sales from your website.  In addition, reduce your cost-per-lead across your online marketing strategy? Please reach out to us.
101221