Reputation Marketing & Monitoring
When it comes to dominating on the web, a business is only as good as it's online reputation. The difference between a 1,2,3, 4 or 5 star rating can translate into tens of thousands of dollars a year, if not more. Anytime Digital Marketing will make sure you lead your online marketing efforts with a proactive approach.
In providing reputation management and marketing for your company, we'll monitor the search engine rankings pages, social media accounts, business directories and all sites that your business is listed on to track down any negative content and give you a chance to respond to it.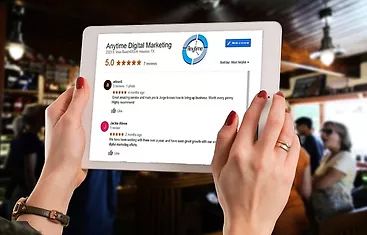 By creating a system for gathering feedback from your customers, you will help prospects know the experience of previous customers.  Also how your business ranks against competitors when it comes time for them to make a decision on spending their money. Positive online reviews where customers and prospects will see them is the objective of your reputation marketing plan. While this can happen organically, motivating your customers to give you feedback will bring consistent results to your business reputation. You need to have a system that encourages and monitors your customers' feedback. In turn, positive reviews are routed to the review sites and online networks that fit in your line of business.
Understand that some of your feedback might not be five-star level. By having a plan in place, you will be able to bring the unhappy customer back to a five-star consideration. These important customer service techniques have the ability to build relationships.  You will have opportunity to turn a mediocre initial customer experience into a great relationship!  This creates return customers that will also provide word of mouth marketing for your brand. With Anytime Digital Marketing's reputation marketing:
Acquire feedback directly from current customers.
Understand their opinions about your company, wherever it ranks in the 1 to 5 star rating scale.
Ability to take the 1 to 3 star reviews, and understand the issues these customers are experiencing. After understanding and communicating the issue, you will have the opportunity to convert them to a 4 to 5 star review.
Rinse and repeat the cycle with new referrals and customers.
​
Stats
A 5-Star rating earns a business 28% more clicks that having no stars.
Listings with 5-Stars earn 69% of clicks from the Google Local 3 Pack.
Going from a 3-Star rating to a 5-Star rating gets a business 25% more clicks from the Google Local 3 Pack
*Source BrightLocal
Reputation marketing consistently has trends.  In addition, it is an important continuous and repetitive cycle that can your bring business great results to your brand's growth.
Check your online presence across a network of 50 Powerful Search Engines, Directory Sites and Mobile Apps that Reach 250 Million+ Users, and see how your reviews appear on these sites.
Find out the number of review and ratings your business currently has on these directory sites search engines online, and mobile apps.  This will help you keep track of your reputation
Reputation management is a continuous process. Without continuous management, you may miss an issue that a customer had with your business. By not responding or communicating, other prospects may view it negatively.