Target Your Audience With Display Advertising
An attention getting banner ad is what you need to build brand recognition with your customers. Online display advertising puts your brand on the websites where consumers are searching,  Therefore, you can target more local customers and build a stronger name for your business.
By using a variety of targeting methods, we can make sure your ads are shown to the right people. In addition, retargeting is an effective strategy that is sure to bring results. As a Google Partner, Anytime Digital Marketing will ensure your ads will be placed where your customers visit online.
Our marketing strategy will give your business the opportunity to appear on thousands of websites and apps.

Retargeting, also known as remarketing, is a form of online display advertising.  As a result, it keeps your brand in front of bounced traffic after they leave your website. For most websites, only 2% of web traffic converts on the first visit.
The use of pixels is the most common type of display marketing.  When someone visits your website, a piece of JavaScript is placed on their browser.  As a result, their browser is "cookied." Once they leave your site to surf the web, that cookie notifies retargeting platforms.  Therefore, this serves your specific ads based on the pages they visited on your website.
One of the most powerful advances in advertising since the creation of PPC is retargeting. It can be a great way to raise brand awareness in the digital internet marketplace.  As a result, this keeps your company at the forefront of consumers' minds. In addition, it allows you to focus your advertising spend on clients that have some degree of interest.

We take the guesswork out of what works for you. In addition, we assess your campaign's success by analyzing performance metrics.  Therefore, allowing us to provide smarter suggestions about future marketing initiatives so they'll be even more effective than before.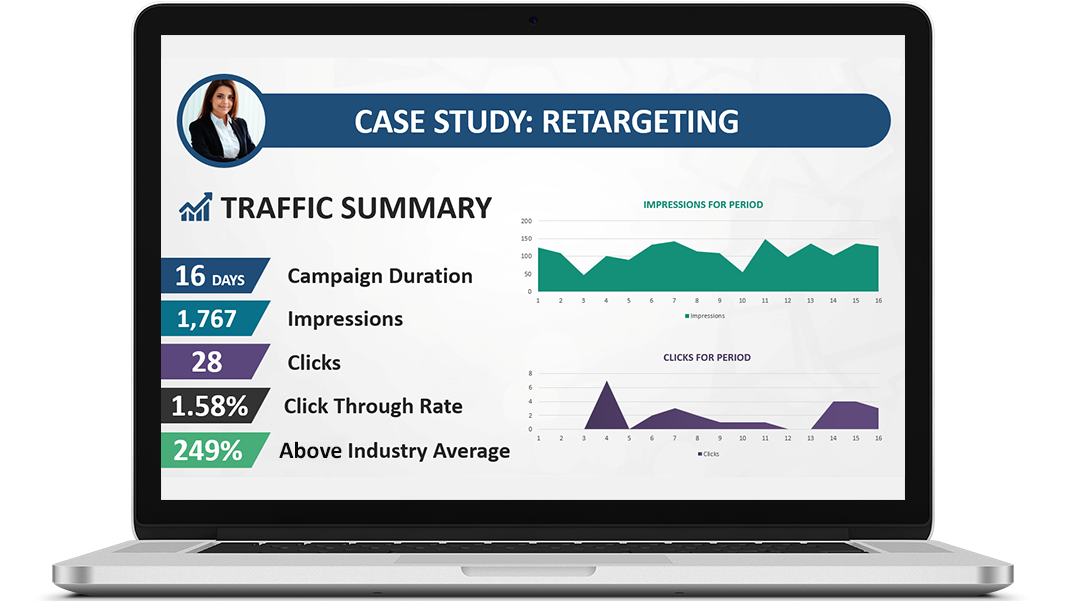 e track your website visitors' activity, interest, and intent with our display ads marketing. This helps us show relevant ads to website visitors who are most likely to engage with them. By tracking website visitor activity, we can better understand what kind of ads are most effective and how to target website visitors with similar interests. Additionally, this information helps us determine when website visitors are most receptive to ads so that we can timing our campaigns accordingly. Ultimately, this allows us to create more successful marketing campaigns and improve our website visitor experience.
Frequently Asked Display Ads Questions
This is done by installing a tracking code pixel on your website. Therefore, you can track what pages on your website people visit, how long they spend on those pages.
Since these ads are targeted at individuals who have already visited your website, they are more likely to result in a conversion than generic display ads. In addition, retargeting allows you to customize your ads to specific demographics, interests, and behaviors.
Yes, retargeting can lift ad engagement rates up to 400%. The click-through rate (CTR) is 180.6% higher for retargeted users on the display network.