Many businesses simply don't have the staff, time or expertise to handle their email marketing needs.  Therefore, Anytime Digital Marketing will help you manage your email marketing campaigns.  As a result, we'll save you time by the taking the load off your team.
Your brand identity is what subscribers and customers remember first. A personalized e-mail marketing campaign that displays targeted content for different audiences will generate success.
Anytime Digital Marketing creates email marketing templates that combine elements of visual design.  Therefore the designs cater to the specific needs of your audience.  Maintaining the look and feel of your website and other marketing materials.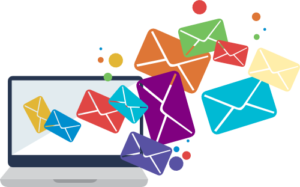 Launching a Successful Email Campaign
Email marketing is a successful strategy that companies enlist to ensure to improve client base. This form of marketing can be used to grow the branding of a company and continued communication via e-mail  Your click through rates and metrics should provide a return on investment if done properly.
By hyper-targeting your audience, you can reach them where they engage the most. You can connect with them if they have expressed brand interest. When launching a campaign, we target your audience by selection of lifestyle and demographics. It is also important that we promote a safe email marketing environment with the best possible sending reputation. We also remove invalid emails to make sure your campaign stays clean and validated.
Email marketing is important because it plays a big role in our lives as professionals, individuals and consumers. Think about this, how many people do you know without an e-mail address? There's a good chance that you can count these people on one hand.
With email marketing, you can also look at exactly how many people are engaging your e-mail content.  Platforms like Mailchimp, Constant Contact and Vertical Response have great analytics.  This allows you to determine if your email campaigns are successful.  You will have ability to view how much of a return on investment these campaigns are bringing to your business. By making adjustments to subject lines, messaging, and types of promotions, you can continue to track success.  Therefore you will see which strategies are bringing you the best results with your e-mail marketing.
The Email Marketing Process

Our Email Marketing Services