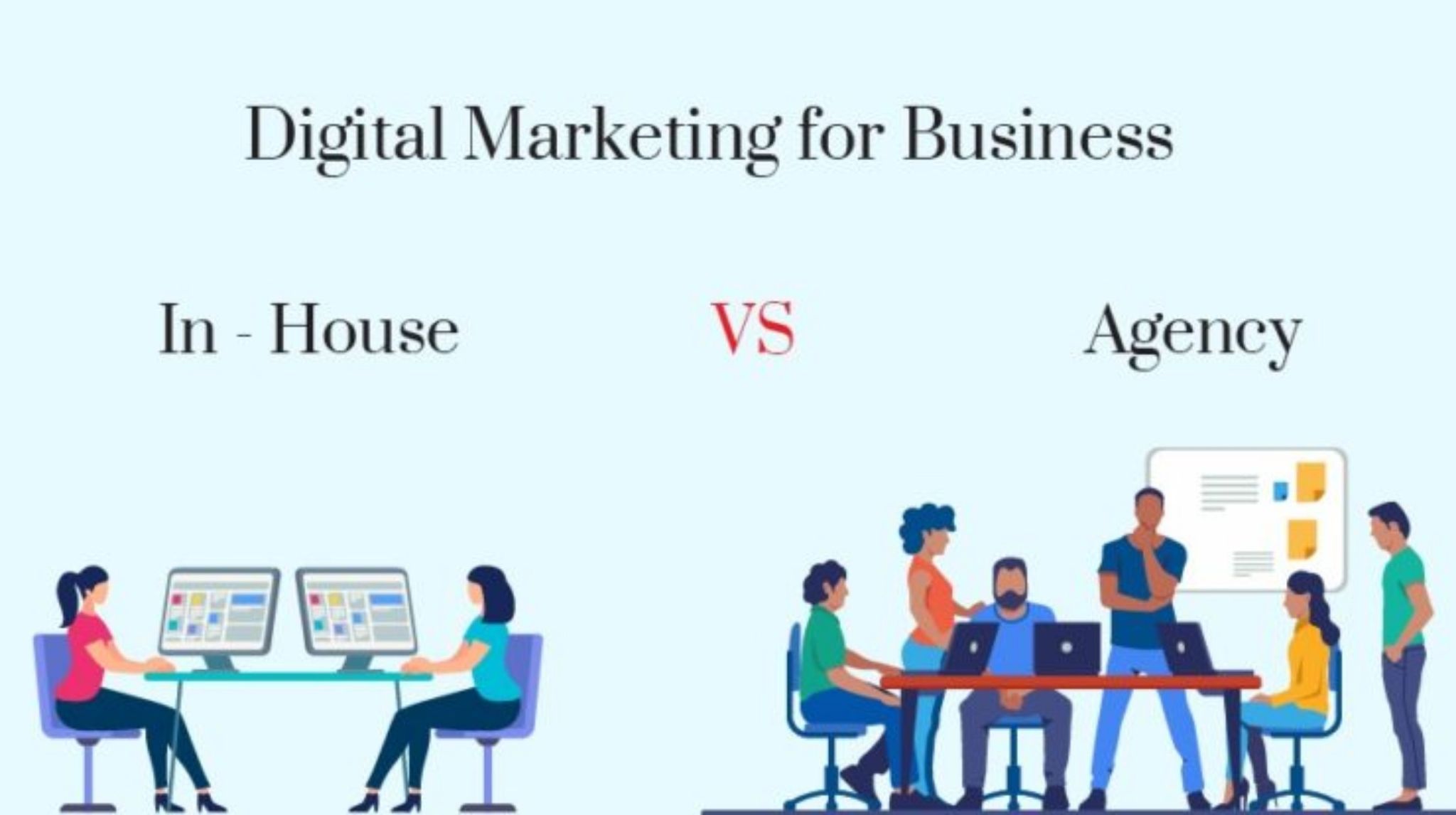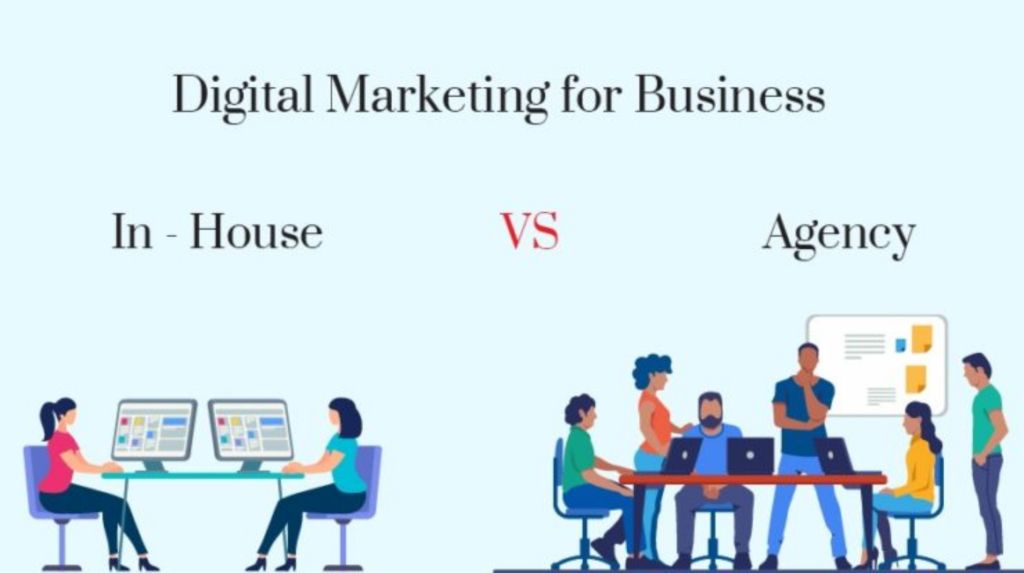 The digital age has allowed businesses to thrive like never before. It has allowed for new and innovative ways for business owners to market their business. In the past 10 years or so more and more business are jumping onto the digital wagon. Who can blame them? Taking your marketing digitally allows you to reach customers that you never would've been able to traditionally. The reach that marketing campaigns such as email marketing, PPC, retargeting, and more have brought on a new age of marketing.
However, some business owners are still reluctant to make the move to market their business digitally.  It's easy to see why, traditional avenues are tried and true and many business owners have lived most of their lives in a world without digital marketing. Even when they do decide to jump in, it's hard to know whether in-house or agency marketing is the better fit for you. Thankfully, today's blog is here to explain some pros and cons of in-house vs. agency digital marketing.
In-House Marketing
Pros
Brand Familiarity
One of the biggest advantages to in-house marketing is the fact that no one knows and understands your brand better than you do. When you decide to create an internal marketing team, they know all the ins and outs for your business. Furthermore, they know all the best-selling points and unique aspects that make you stand out from the competition.
This is a positive because it will inform all of their marketing decisions and materials. Agencies can be a great asset to have. However, it will take time for them to get to know you. So if you're a business that's pressed for time, in-house might be the way to go here.
The accessibility than an in-house marketing team brings to the table can't be understated either. If you have any questions or concerns, they're right there in the office with you. While agencies respond to calls and emails. Again, if you're a business that has fast turnaround for projects, you'll want to consider an in-house team.
Focus
Another major advantage to in-house marketing is the fact that your team is 100% committed and focused on your business. Agencies do have other clients besides you. That means that they prioritize projects and allocate manpower to high-level clients. While they will take time to get to know you and work on your projects, you're not their sole focus.
Depending on what your marketing needs and goals are, this may not be the best thing for you. Having a dedicated team for your marketing can save you a lot of time and hassle. It will give you peace of mind to know that your in-house team's top priority is your business. A win for you is a win for them.
Furthermore, when you outsource your marketing, you lose degrees of control of your marketing. If you prefer to have complete control over your marketing, going with an agency is not the right move for you. If you like having that level of control, it's best to build an in-house team.
Cons
Hiring Talent
Finding the right members for your in-house team can take a lot of time and effort. The average time to hire for a marketing position is around 50 days , that's almost two months. If you don't have the time to dedicate to finding the right team, hiring an agency can save you a lot of time and money.
Cost
Speaking of money, it also isn't cheap to create an in-house team. on average, the average salaries for digital marketing managers, and specialists range from $49,000- to $65,000. The average salaries for SEO specialists and social media specialists are around $48,000. That's not even taking into account factors such as taxes, insurance, retirement plans, etc. While a marketing agency isn't free, they're often much more cost-effective than in-house marketing.
Capabilities
The capabilities of your team is another potential drawback of in-house marketing. If your limiting your hiring pool to just your local area, than this can slow your recruitment efforts. An agency can provide your business with the team and knowhow to expand your business.
Agency Marketing
Pros
Pericia
Partnering with a digital marketing agency has its own benefits that can help your business. One of the most important benefit is the fact that agencies come with the expertise needed to deliver results for your marketing strategies.
You can choose from the most experienced agencies in your field. There are agencies that cater towards specific industries or marketing techniques. You can pick which is the best fit for you and go from there.
Working with such an experienced partner can help your company get the most value and ROI from digital marketing. This is because agency team members have skills and capabilities that are unmatched. These capabilities can range from accessing beta features in Google Ads to data on effective tactics or strategies.
Software and Specializations
Working with a digital agency has another benefit. That benefit being access to marketing software. Digital agencies have these tools so that you don't have to worry about researching or purchasing them yourself. Agencies have software and tools for things such as keyword research, analytics, tracking, and more.
In addition to this, many digital marketing agencies have specific divisions dedicated to specific marketing techniques. These divisions can greatly aid in your marketing goals. These specializations can range from social media, PPC, SEO, web design, copywriting, and much more.
With these tools, softwares, and specializations, agencies can harness the unique advantages of your business and combine them with these tools to increase your busines like never before. Whereas if you manage your marketing in-house, you have to limit your efforts or hire a jack-of-all-trades team member.
Cons
Location
Some businesses rely on a local area to thrive in. This is understandable but can lead to frustrations when trying to hire a digital marketing agency. You can find the perfect agency, but they may be halfway across the country. It can make communication and intent difficult on your end.
Clients
One of the main drawbacks with agencies is that they handle multiple clients at a time. This can cause a feeling of neglect in certain businesses. Additionally, they may not get to your requests right away or will make you go through scheduling for consultation calls, questions, etc.
Control
It's understandable for certain businesses to want to have 100% say-so and control over their marketing. This means that partnering with a digital agency has the potential to cause you some headaches along the way. That's because agencies often work best with some freedom.
Today, it is becoming more and more vital for business to have an online presence in order to succeed.  These are just the basics of digital marketing, there are many more techniques and strategies that may work for your business. But for the purposes of getting your business started, these are the tried and true fundamentals. Always keep in mind your business' goals and strengths. There is no clear cut winner between in-house or going with an agency. It's all about what works best for you. If you need any help or need any of the services we discussed today, visit us at: https://anytimedigitalmarketing.com/ to see how we can help you to grow your business.