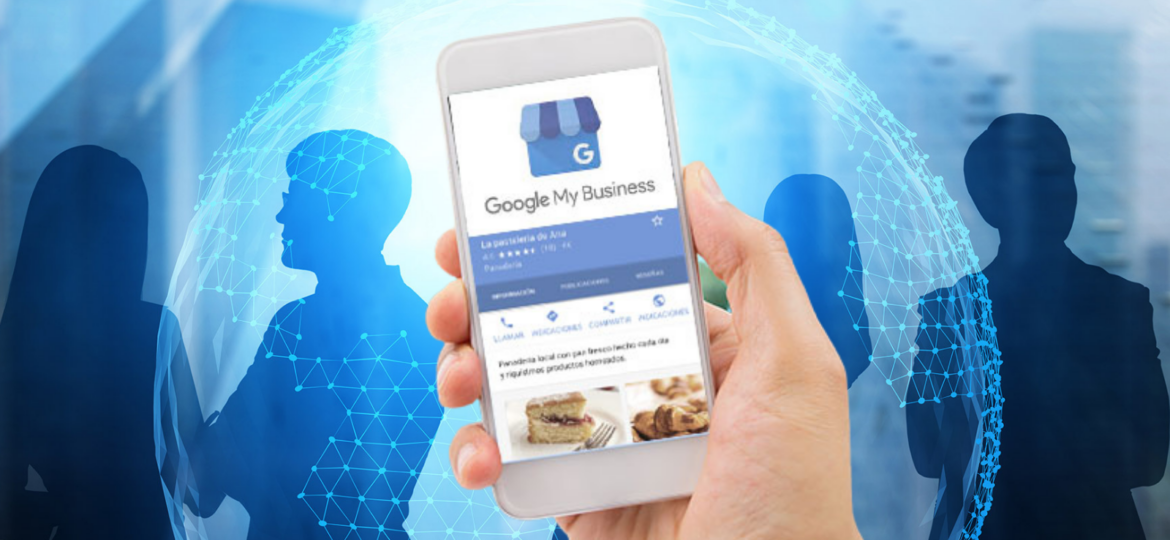 What is a Google My Business listing?  To make things easy, Google My Business provides you with the ammunition you need to appear on local search results and maps.  In addition, the listing allows you to show details about your business including hours, description, posts, and website link.  This platform will help you reach many potential prospects interested in your services based on what they are searching for.  Therefore, having a listing with user-friendly information is key.  Here are some tips on how to get customers from Google My Business.
Designed to Attract Customers
Using Google My Business as a local SEO tool is the building block for success.  The platform was designed to include useful information about your business so that prospects can find you.  In addition, the platform gives the user ability to interact with your business on many levels.  For instance, they can call you directly, visit your website, leave a review and set up an appointment to name a few.  The platform functions like a business's website.  However, it tends to appear quickly at your fingertips when someone searches for your business directly.
Optimizing Your Keywords
Utilizing the right keywords to describe your company on a Google My business listing will bring effective results.  When it comes to Google, they rank their searches based on 3 key points.  Firstly, Google wants relevance.  This means how appropriate something is to what's being searched for.  Secondly, distance for location purposes is important.  Google will provide the nearest information to where the person is intending to find the place of business.  Lastly, prominence plays a role.  Keeping an updated, noticeable listing will help attract clients to your business.
The keywords used need to reflect relevance, distance, and prominence.  For example, if you were to type in "affordable dentist" in your search, you will notice the listings that appear on Google Maps.  As a result, it will pull dentist listings that include the keyword "affordable" in their content from their website.  This makes the listing a good fit for what the user was searching for.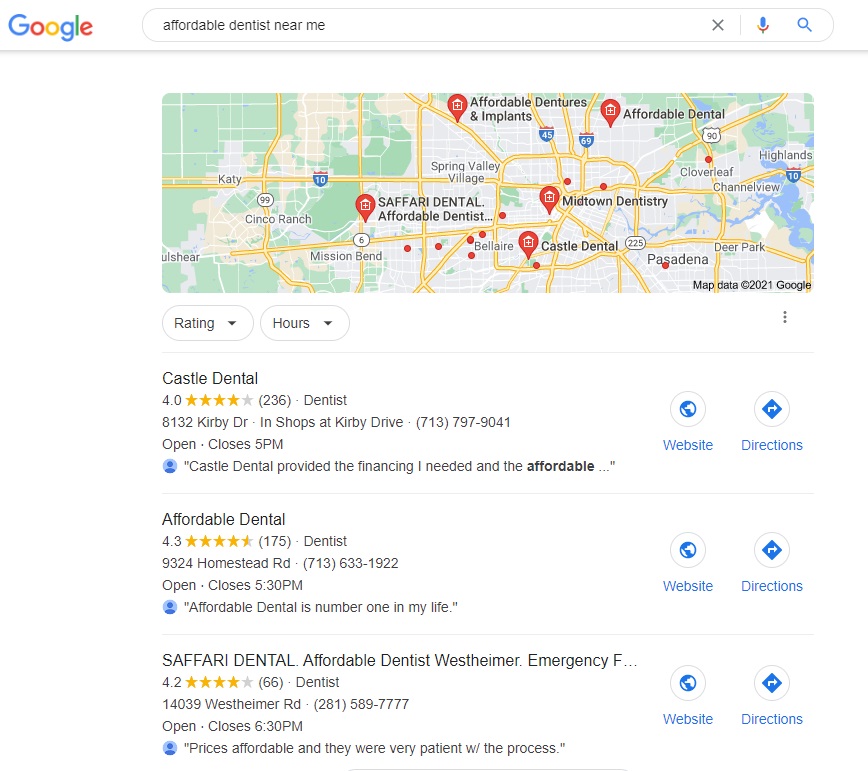 This strategy gives you the opportunity to find relevant keywords that trigger Google's results.  For instance, adding these keywords on your blogs, descriptions and general content will bring results.  Another way to add relevant keywords to your listing is by requesting your customers to leave a review that includes some of those keywords.  As a result, they will also appear when someone searches one of those detailed words on their description.
Optimizing Your Business Hours
This area is found when logging into your Google My Business listing platform.  If you click on the "info" tab, you will find information like your hours, service areas, etc.  Recently, a new section was added called "more hours".  This feature allows you to add different hours aside from your standard business hours.  For instance, this may include holiday hours.  This tells Google that you are keeping your important information relevant and up to date for your customers.  Therefore, Google will reward you with higher rankings if they see you are consistently keeping your listing updated properly.  In addition, when utilizing the "more hours" function, it allows you to add specific services or specials when those features may be available.  For example, restaurants may include "happy hour" with the relevant hours happy hour specials are available.
These special hours do not affect your standard hours on your listing.  However, it gives user the detailed information they may be looking for when deciding on where to go.  This is a very useful tool that businesses can use to enhance their listing and attract new customers and clients.
Google My Business FAQ's
FAQ, known as frequently asked questions, is done by incorporating a user's point of view.  Therefore, it does involve the use of keywords as previously mentioned.  On Google My Business, you can find this feature when conducting your search on the actual panel.  You will find a section for "Questions & Answers" on the listing.  This feature is like an FAQ section.  However, you can use this in an authentic way with Google to satisfy what Google may be looking for.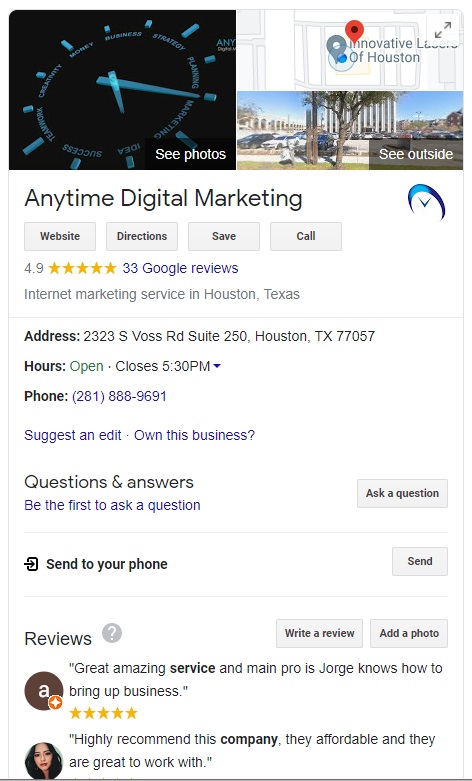 Remember, as previously mentioned Google wants relevance, distance, and prominence.  How can you incorporate this to the Questions & Answers feature on your listing?  You will want to have different questions regarding your business added to this section.  This can be done by your current customers, or generally anyone.  The response will come from the business owner.
When a relevant question is asked, Google automatically gives you a suggested answer by pulling content from your website.  As a result, you can select this answer and publish it to the listing for the community to read.  This feature will be very helpful to many users when deciding if this is a place of business, they are interested in.
Google My Business Posts
Posting on Google My Business is similar to other social media platforms.  It allows you to post to inform customers of new products, events, specials and more.  Therefore, your business content will be relevant by posting consistent information about your company.  In addition, if your post allows you to include media like photos, videos, GIFs, and call-to-action buttons.  As a result, it will attract prospects and allow people to engage with your posts.
Business Messaging
As we all know, text messaging has become the forefront of customer communication to say the least.  Therefore, Google My Business offers very effective messaging tools to help your business capitalize from this.  This feature will allow customers and prospects to text questions, which you will receive through the Google My Business app.  For example, it gives you the ability to review incoming questions, and reply through the message tab on your app.  However, time kills deals.  Therefore, replying in a timely manner will ensure to keep customer interest engaged.  In addition, Google may disable this function from your listing if you regularly take longer than 24 hours to reply.  This can be found in their messaging guidelines.
The function is very easy to apply.  Once you turn this feature on, customers will see a "Chat" button on your business profile listing.  They will be able to message you at any time.  And, you will receive notifications on your business app.
Tracking Your Progress with Google Insights
It is important to measure the success of your Google My Business profile listing.  This can be done with the Google Insights tool.  For example, Google Insights will tell you how customers are finding your business listing.  Whether it's from search or maps.  In addition, it shows the actions your customers are taking on your listing.  This may include visiting your site, clicking for directions, browsing the photo gallery, or calling you.
The insights will display how many calls you have received from your profile.  All of this information can be used to track your customer's conversion path and provide an in-depth understanding of your prospects actions before reaching your website.
In Conclusion
There are several ways to attain new customers from your Google My Business listing.  Therefore, having a fully optimized and relevant profile will position you with great results.  Google My Business also helps with local SEO, allows customers the opportunity to engage with your business, and provide useful data insights.  Best of all, it is a FREE tool!
If you need help setting up your Google My Business account, and/or with any local SEO strategy, Anytime Digital Marketing is here to help!