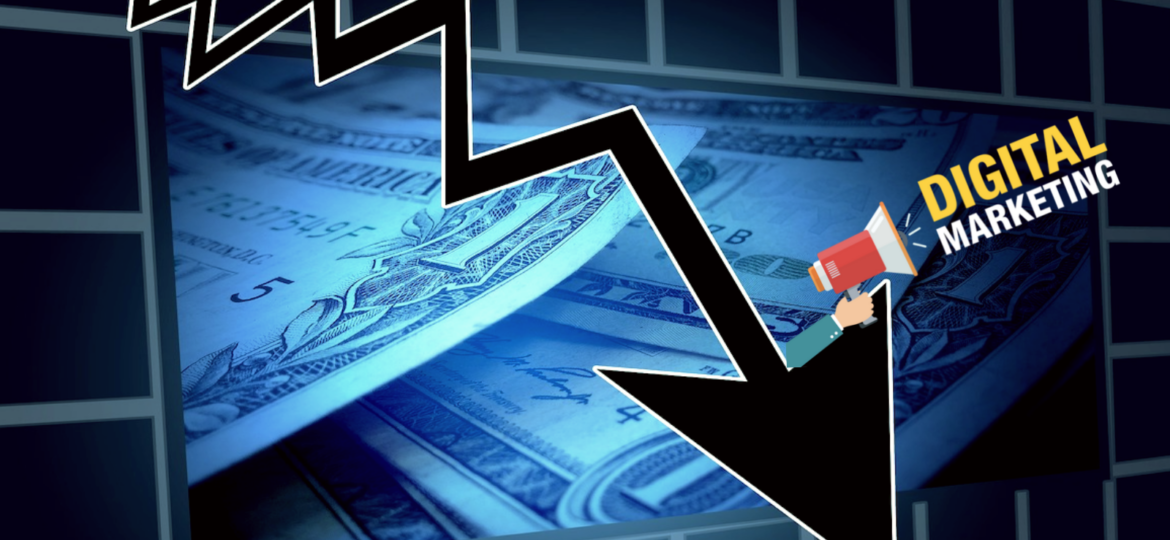 Times are tough. The global economy is in a state of upheaval. And, businesses everywhere are feeling the pinch. In these difficult times, it's more important than ever to focus on digital marketing strategies that will help you survive the inflation crisis. Here are just a few ways that you can use digital marketing to your advantage during this economic downturn.
Your Website is Your Storefront
In today's economy, it's more important than ever for businesses to have a website. During an economic downturn or recession, customers are looking for ways to save money.  One of the first places they'll look is online. Therefore, having an up-to-date website design allows potential customers to find your business and learn about your products or services. In addition, it's important to make sure your website is user-friendly and informative. Potential customers should be able to easily find what they're looking for. Therefore, your website should clearly explain what you're offering. In addition, your website should showcase any special deals or promotions you're currently offering. With a well-designed website, you can reach a wide audience of potential customers and help keep your business afloat during tough economic times.
Your website should be an online salesperson. It's on 24/7 and ready to sell.  However, if it's not providing customers with clear information or an easy-to navigate design, it will not be effective.  Having your website up to par is an important digital marketing strategy during an economic downturn.
Don't Ignore SEO
SEO is a very important digital marketing service that you should consider during an economic downturn or recession. The reason SEO is so important is because it helps your website rank higher in search engine results.  Therefore, this leads to more traffic and, ultimately, more customers.  What SEO does is it optimizes your website for the keywords that people are searching for when they're looking for businesses like yours.
For example, let's say you own a pizza restaurant. If someone searches for "pizza near me," your website will show up higher in the results if you've optimized it for that keyword. It will out perform the websites that didn't optimize.  And, more often than not, people are going to choose the business that shows up higher in the results.
So, if you want to increase traffic to your website and get more customers, SEO is a digital marketing service that you should definitely consider during an economic downturn. Results may not happen overnight.  However, SEO is a long-term strategy that can really pay off for your business in the end.
Content Marketing Is Key
Content marketing is a key digital marketing component that you should consider during an economic downturn or recession. The reasons why creating relevant current content is important for your business's website are threefold. First, content marketing can help you maintain or even grow your website's traffic during an economic downturn. Second, content marketing can help you create valuable content that helps improve your website's search engine optimization.  As a result, leading to increased website visibility and traffic. Third, content marketing can help you build relationships with potential customers and clients. This can lead to increased sales and revenue. For example, if you create a blog post about how to save money on XYZ product during an economic downturn, this can help build trust with potential customers who may be looking for ways to cut costs. Content marketing can help your business maintain or even grow its web presence and sales during an economic downturn.
Consider and Maintain running PPC campaigns
In an economic downturn, it may seem like a good idea to cut back on spending in all areas of your business. However, reducing your advertising budget is not always the best solution. PPC advertising can be a great way to maintain and even grow your customer base during tough economic times. Here's why:
First, PPC advertising is a form of digital marketing, which is one of the most cost-effective types of marketing available. Second, when other companies reduce their advertising budgets, this can create more opportunities for your PPC ads to be seen by potential customers. And third, PPC ads can be targeted very specifically to your ideal customer, which increases the chance that they will lead to conversions.
So if you're looking for a way to keep your business growing during an economic downturn, investing in PPC advertising is a great solution.
Social Media Marketing is a Must
In today's digital world,
social media marketing
is more important than ever before. Utilizing social media during an economic downturn can help your business in a number of ways. First, social media is an excellent way to reach out to potential customers and promote your products or services. Through social media, you can connect with people from all over the world, regardless of their location. Additionally, social media is a great way to build relationships with customers and create a connection with your brand.  This may include sharing content that educates and informs users about how to save money. For example, a grocery store could share tips on how to meal plan on a budget or a clothing retailer could provide advice on how to stretch a wardrobe budget. Not only will this type of content be useful to consumers, but it will also help to build brand trust and loyalty.
People are looking for brands they can trust and social media is a great way to build that. Finally, social media provides an excellent platform for conducting market research. You can use social media to gather data about customer preferences and trends. This information can be used to make strategic decisions about your product offerings and marketing campaigns. By utilizing social media during an economic downturn, you can keep your business afloat and even grow during difficult times.
Keeping It Real
The best way to make your customers feel empowered during this difficult time is by staying on top of their needs. Whether they're emotional or financial, you should never lose sight that people come first for both business and personal reasons.  Your customers matter because there's nothing more important than people who put trust into what you offer them every single day.  The economy is tough, but you can help your customers through it.
In Conclusion
While an economic downturn can be a difficult time for businesses, it's also a crucial opportunity to tighten up your marketing efforts and make sure you're doing everything possible to reach your target market. Your website is still the most important aspect of your digital presence, so make sure it's updated and user-friendly. Social media will continue to play a huge role in marketing, so start beefing up your social media profiles and content. And don't forget about SEO – even in tough times, good SEO practices can help you stay ahead of the competition. If you need help organizing your digital marketing during this economic downturn, our team is here to help. Contact us today for a free consultation!