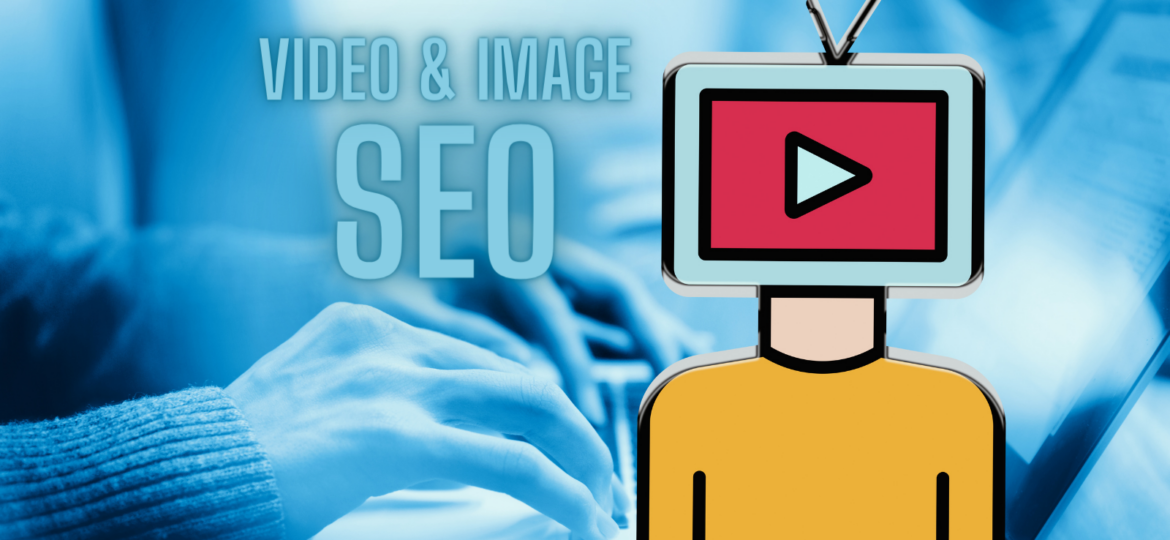 Are you looking to create an effective online presence for your business and attract more customers? Video and image SEO can be incredibly beneficial when it comes to boosting visibility on search engine results pages. With some simple steps, you can give yourself a head start in the world of digital marketing by leveraging this. In this blog post, we'll take a look at the various benefits that video and image SEO offers businesses.  For instance, helping your content stand out in organic searches to connecting with visual-savvy consumers. Let's explore how these strategies can help you maximize return on investment for your website.
Why Video and Image SEO is important for businesses
Video and image SEO is an important and often overlooked concept in the world of search engine optimization. It is the process of optimizing video content and images found on websites. As a result, they'll rank better in web searches. This type of SEO goes beyond the regular SEO techniques used when it comes to websites.  This is because video and image content cannot be properly indexed without additional steps taken by website owners. The process involves ensuring video descriptions, files titles, alt tag text for images and file types are optimized for web searches. Thus, helping increase the chances of these elements being easily found on search engines.
Unlike regular website SEO, video and image optimization all takes place outside of a given website.  Therefore, allowing content from your site to be easily discovered on other sites or social media posts as well. In addition, video and image SEO makes use of video thumbnails which can entice more visitors.  As a result, creating more opportunities for a business to make sales or reach their goals.  This happens through increased views or engagement with their content.
The benefits of Video and Image SEO
Video and image SEO can offer numerous advantages.  For example, it can be used to attract new customers, build brand loyalty, engage followers, and boost search engine rankings. Let's explore the six core benefits of video and image SEO for businesses.
1. Increase Website Traffic
By optimizing visually attractive video and imagery, businesses can appeal more to their target audience.  Therefore, leading to more web visits, and ultimately, conversions. When creating the content, there are a few components that businesses should focus on. Firstly, video production quality is key.  Therefore, ensuring all video footage is crisp and clear with full-bodied sound quality.  This allows for a much smoother viewing experience for potential customers. Additionally, including relevant keywords or company-related words in video titles or meta descriptions.  This ensures increased search engine discoverability when potential viewers search for related topics. Finally, storytelling visuals such as an engaging 'About Us' video or memorable product images.  As a result, this helps build trust within your business's brand which further encourages customers to explore other pages on your website.
2. Case Studies
A video case study allows you to instantly communicate the successes by pairing visuals and audio together.  Therefore, creating an opportunity for businesses to demonstrate themselves as experts in their field. It is important to include testimonials from happy customers, as this helps to reinforce the overall messages of success. In addition, you can use video case studies as a great medium for showcasing how your products work.  Also, display customer feedback between product launches. Another beneficial reason for using video case studies is its ability to increase SEO visibility.  Video content will make it easier for search engines like Google and Bing to acquire your images and video content than text-based content. Furthermore, case studies offer a low production/cost consequence.  Additionally, being more engaging than traditional methods of communication.  As a result, making them more impactful in delivering value quickly and efficiently.
3. Message Recall
Video and images can be great tools to engage your audience and establish trust. Not only is this content memorable, they can also increase the visibility of your website via SEO when done correctly. Moreover, video content can relay important business messages effectively and aid recall too.  This is beneficial in crafting a lasting impression on viewers. The connection between video content and effective communication ultimately leads to an audience that feels connected to the product or service and is then likely to recommend it.  As a result, boosting your business's credibility in the eyes of potential customers.
4. Tutorials
Tutorials are one of the best ways to educate customers on product usage. With video and images, you can get creative and showcase just how easily a customer can use your product. Not only are video tutorials effective for customer education, they also give subtle promotion to your business. Show off the images of your products and services while talking through usage instructions.  Therefore, allowing customers to see what they're investing in.  Additionally, it plants the idea of using/buying more from your business in their mind. Adding video tutorials is also a great way to boost SEO rankings, making it easier for potential clients to find you online.
5. Target international consumers
Video content is becoming a standard for businesses' marketing efforts.  Therefore, targeting international consumers requires the addition of subtitles and closed captions. This enables video viewers to understand the message no matter their language. Furthermore, these captions and subtitles improve the video's SEO power by encouraging consumers outside of one's own region to view it.  As a result, increasing search engine visibility. Sophisticated video hosting platforms provide an easy-to-use interface to add text into videos which can be used to create universally readable videos that appeals to wider target markets. Offering video content with subtitles in multiple languages allows businesses to target specific international audiences.  In addition, capture new potential customers regardless of language barriers. And, video with accompanying translations is known to result in higher customer satisfaction and improved relations beyond national boundaries.
6. Tours
Recently, video tours have become the new norm for real estate agents to advertise properties and increase their business sales. Agents can now check out homes from afar.  Therefore, giving potential buyers the ability to view multiple properties in just a short video.  Additionally, providing a more immersive experience than the average photograph. Realtor digital marketing is essential in today's landscape and video tours have proven to be effective in helping agents reach a larger audience of potential homebuyers. Furthermore, video tours are recognized as rankings signals by search engines. Thus, improving real estate digital marketing and SEO practices.
Optimize videos and images for better search rankings
To get the best SEO results, video and image optimization requires careful attention to detail. For example, choosing correctly sized images, understanding video compression, optimizing file size and adding video and image metadata. The following examples provide additional detail of optimizing video and image content for optimal SEO performance:
File Formats & Compression
Selecting the right combination of codecs and file formats can be essential to ensure video files don't take up too much space or load slowly. Encoding video into an audio-video codec like H264 is recommended as it offers good image quality for less size. Additionally, businesses can make sure that video files are compressed enough.  Therefore, it doesn't bog down network performance or interfere with other resources like SEO content. Further, video formats such as MP4 are good options for website use since it plays in almost all browsers with no additional plugins.
Image Resizing
Resizing images to web resolutions is essential for faster loading times and keeping visitor attention spans. As visitors will likely leave a page if its content takes too long to load, ensuring that video and images are optimized can improve overall website performance.  In addition, positively reflect on search engine (SEO) rankings. Furthermore, properly resized images help conserve user data plans on mobile devices.  Therefore, encouraging users to return due to the fast page loading they enjoy with every visit. Finally, since website speed impacts search engine rankings and user experience, optimizing video and images through resizing is a must-do for businesses looking to create a positive impression on customers.
Video Sitemaps
Video sitemaps provide search engines like Google with an efficient way of accessing video information when indexing websites. By creating video sitemaps, business owners are able to increase their visibility in the SERPs (Search Engine Results Pages). With this video data indexed and organized, it gives Google a more detailed view of the video content hosted on a website. In addition, the sitemaps also help organize image media that is being used and aid in SEO efforts. Also, the sitemaps will make it easier for news readers, video feeds and other aggregation tools to access your videos. As a result, your videos can be seen by the biggest number of people possible.
Alt-Text
Utilizing video and image tags can be beneficial for any business with an online presence. Not only does this help users understand what type of video or image is being displayed by providing alt-text or other descriptive tags, it also helps crawlers see this content as well. Adding alt-text, will have a positive effect on SEO since the crawlers can accurately identify what is being displayed. Thus, all businesses should be sure to include these tags whenever possible in order to properly index video and images in search engine result pages.
Captions & Transcripts
Businesses should use translations and closed captioning when creating video content in multiple languages for international reach or for wider markets including those with hearing impairment who are unable to hear audio from online videos. Adding transcripts along with those captions can further help boost organic rankings with the added text providing more context about what's contained in a particular video segment.
8 strategies to improve your Video and Image SEO performance
With the right mix of video and image SEO, you can improve your brand visibility and reach broader audiences. By identifying what works best for your organization and following a few key strategies, you can greatly improve video and image SEO performance. These 8 detailed strategies will help take video and image SEO to the next level:
Create Interesting Content
When creating video content for your business, video and image SEO should be a priority to ensure success. Adding keywords relevant to video topics within titles, descriptions, tags and captions will help search engine crawlers index the video. This means that when people use specific keywords in a search, they will be able to find your video content more easily. Additionally, videos need to be made with quality and purpose. Therefore, viewers are engaged and informed. If the video is optimized in the right way, providing great content that meets their needs, it may become popular and regularly visible on search engine results pages (SERPs). To top it off, optimizing video SEO can also increase the chances of discovery after someone views one instance of your video—because of suggested videos algorithms.
Video Sizing
By having video content that is appropriate for different device resolutions, businesses can cut down on video buffering times and prevent users from leaving due to low video quality. This should be factored into every business' content marketing strategy as poor video sizes and resolutions can lead to negative UX experiences. Additionally, businesses should pay attention to videos' aspect ratios or it won't look good on certain screens due to the distorted video size.
Relevancy
In order to make sure that your video resonates with your target audience, it's important to ensure that the images you use within your video are relevant. Visual representation of ideas can help to drive a message home for viewers.  Therefore, finding high-resolution, visually engaging images helps to create an overall more professional look which supports the video's message. Making sure any images used align with the video's message will both strengthen the video's message and improve its overall Video and Image SEO performance.
Copyright restrictions
Whether you are creating video content or imaging graphics for your website, it is important to be aware of copyright restrictions.  In addition, abide by them while using them in your business. Ignoring ethical practices can have legal repercussions and could put your business in a difficult spot. In order to improve SEO performance, it is best that you use original video and image resources. It will help build trust among your audience.  Additionally, it protects you from any future legal complications. There are many resources out there that offer free video or image content.  However, at times the license of use might be restricted. Give due consideration to copyright related laws before using anything from public domains as each has different rules regarding how one can use their content legally. To ensure there are no breaches of copyright regulations, always read the fine print thoroughly when acquiring video or image materials online.
Hosting
it is important to make sure that videos are hosted on popular websites such as YouTube or Vimeo.  This is due to their reputation with Google's search algorithm. Self-hosted video content while secure may not rank as high with Google than video content hosted on these platforms.  The reason is because they have established trust factors with the search engine giant. Therefore, maximizing video and image SEO performance. Doing this can bring higher rankings and better engagement rates which is essential for any business who wants improve its digital presence.
Visual analytics tools
Visual analytic tools provide an invaluable way to quickly identify areas of improvement. Services like '
Sprout Social
' can help identify potential areas of improvement by utilizing analytics programming languages such as Java Script. By tracking user experience information when loading a page or playing video, companies are able to make improvements over time. This type of analysis is especially beneficial for businesses aiming to optimize content on their websites and social media channels.  In addition, advancing overall content to maximize reach with various consumer demographics.
Keywords
This entails listing keywords on the backend of each page.  A process that can seem daunting, however, is incredibly rewarding in the long run. Through listing keywords, businesses are able to ensure video and images related to their own are properly indexed by search engines such as Google. Furthermore, these tags make sure visitors can find their video or images quickly and accurately. This process of creating meta tags provide the opportunity to reach your content's maximum potential while furthering business goals.
Link Building
Building links between related videos will increase view time duration as well as website authority/ranking.  Furthermore, link building magnifies both organic visibility and customer engagement levels while also boosting SERP (Search Engine Results Page) rankings. This last strategy has been successfully used by companies such as Task Army who utilized link building techniques within their blog posts.  As a result, prompting an immediate uplift in website views/traffic compared to previous months.
In summary
Video and Image SEO is a powerful tool for any business wanting to get an edge over their competitors. With the right approach, these multimedia contents can be optimized to get better rankings in search engines' results pages. We discussed why having Video and Image SEO is important.  In addition, how businesses should go about optimizing their video and image content. If you want to learn more about this fascinating topic, or if you are interested in applying it to your digital strategy, there are many resources that can guide you. Whether from tutorials to expert advice from Anytime Digital Marketing.  There is a wealth of knowledge that can help you succeed in creating successful multimedia campaigns.