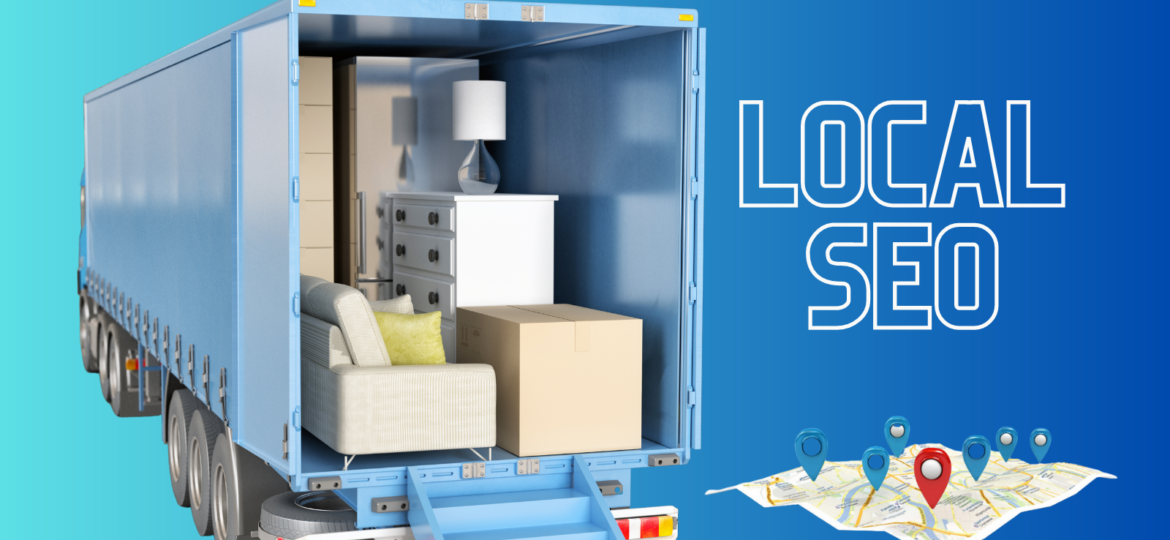 Harnessing the power of local SEO for your moving company is crucial for attracting potential customers in your area. In this blog post, we will delve into developing an effective local SEO campaign specifically tailored to moving companies. Our guide offers valuable insights and actionable tips that can boost your online presence.  We'll begin by discussing how to optimize your website for local search.  Therefore, ensuring that it ranks high on Google search results when people are searching for movers in their vicinity.  Furthermore, we'll explore leveraging social media platforms and online directories to further enhance your visibility among prospective clients.
In addition, we'll consider the significance of generating content that resonates with your audience while increasing search engine rankings. Lastly, monitoring progress is essential to ensure long-term success. Thus, we will provide guidance on tracking key performance indicators effectively.
1. Optimize Your Moving Company Website for Local Search
In today's digital age, it is crucial to optimize your moving company website for local search.  As a result, this will help generate leads and attract potential customers. This can be achieved by incorporating relevant keywords, location-specific content, and setting up a Google Business Profile listing. Here are some essential steps you should follow:
Create Location-Specific Content
To improve your visibility in local search results, create content that targets the specific areas where you offer services. For example, if your moving company operates in Los Angeles and San Francisco, include blog posts or service pages dedicated to each city.  In addition, include information about the neighborhoods served and testimonials from satisfied clients.
Use Relevant Keywords
Identify the most important keywords related to your moving business by conducting keyword research using tools like Google Keyword Planner. Make sure these keywords are incorporated into various elements of your website so that it is indexed properly.  For instance, page titles, meta descriptions, headers (H1s), URLs and throughout the body text.
Title Tag: Include primary keyword(s) at the beginning of title tags on every page.

Meta Description: Write compelling meta descriptions that accurately describe each webpage while including target keywords.

H1 Tags: Use H1 tags for main headings on each page with target keywords included when possible.

URL Structure: Ensure URL structures contain relevant target keywords without being overly lengthy or complex.
Add Schema Markup
To further enhance local SEO efforts for your moving company, implement Schema markup on your website. This structured data helps search engines understand the content of your site and can improve how it appears in search results. Use schema markup to provide details such as business name, address, phone number, operating hours, and reviews.
Create a Google My Business Listing
A Google Business Profile listing is essential for local SEO success. It allows potential customers to find important information about your moving company directly from Google Search or Maps. Therefore, ensure that all information provided is accurate and up-to-date.  For example, your contact details, service areas covered, photos of completed projects, and customer reviews.
2. Utilize Social Media Platforms
In this digital era, social media is an indispensable tool for moving companies to engage with their desired consumers and promote their offerings. As a moving company owner, you should leverage these platforms to generate leads and increase your local visibility.
Create Profiles on Popular Platforms
Start by creating profiles for your moving company on popular social media platforms such as Facebook, Twitter, and Instagram. Ensure your profile is comprehensive.  For instance, containing the name of your business, address, contact number, website URL and an outline of the services provided. This will help potential customers find you easily when searching for local moving companies in their area.
Engage With Your Audience
Social media provides an opportunity to engage with potential customers by sharing valuable content related to the moving industry. Post regular updates about your services or share helpful tips like packing hacks or how to choose the right mover. In addition, you may encourage satisfied clients to leave reviews on your page or tag them in photos from successful moves.  As a result, this boosts credibility.  However, it also increases engagement among other users who may be interested in hiring a reliable moving service.
Promote Special Offers & Discounts
Offer exclusive discounts: Attract more customers by offering special deals exclusively through social media channels.  For example, Facebook promotions or Twitter flash sales.

Create limited-time offers: Generate buzz around seasonal events (e.g., spring cleaning) by providing limited-time discounts that encourage people to book sooner rather than later.

Partner with local businesses: Collaborate with other local businesses to offer joint promotions.  For instance, a discount on moving services when customers purchase packing supplies from a partner store.
Use Social Media Advertising
To reach an even larger audience and generate more leads for your moving company, consider investing in social media advertising. Platforms like Facebook Ads and Twitter Ads allow you to target specific demographics based on location, interests, and behaviors.  Therefore, ensuring that your ads are seen by the people most likely to require your services. By optimizing ad campaigns for conversions (e.g., booking requests or phone calls), you can effectively drive new business through these platforms.
3. Leverage Online Directories
Listing your moving company in online directories is a crucial strategy for improving local SEO and generating leads. These platforms help increase your business's visibility.  Therefore, allowing potential customers to find you more easily when searching for moving services in their area. Some popular online directories include Yelp, Yellow Pages, and Angie's List. Here are some tips on how to make the most of these listings:
Create Complete and Accurate Profiles
Provide all necessary details about your moving company.  For example, include contact information, website URL, operating hours and a brief description of services offered. Ensure the accuracy and timeliness of this data so that possible customers can quickly contact you.
Add Photos and Videos
Including high-quality photos or videos showcasing your team at work can give potential clients an idea of what they can expect from hiring your moving company. This visual content helps build trust by demonstrating professionalism and attention to detail.  In addition, using appropriate video or images will help your SEO efforts.
Encourage Customer Reviews
Positive customer reviews play a significant role in influencing people's decisions when choosing a service provider like a moving company.  Therefore, encourage satisfied clients to leave reviews on these directory websites.  You can do this by sending follow-up emails after completing jobs or offering incentives such as discounts on future moves.
Respond Professionally to Feedback
Maintaining an active presence on directory websites also involves responding professionally to both positive feedback (by thanking reviewers).  Furthermore, addressing any negative comments (by apologizing if necessary). By doing so, you demonstrate excellent customer service and show potential clients that you care about their satisfaction.
4. Create Quality Content
To attract more customers and rank higher in local search results, it's essential to develop quality content related to moving services. This not only showcases your expertise but also helps potential clients understand the value you provide. Here are some tips for creating engaging, informative, and original content:
Focus on Relevant Topics
Choose topics that directly relate to your moving company's services or address common concerns of your target audience. For example, write about packing tips, how to choose a reliable mover, or ways to save money during a move.
Create Engaging Blog Posts
Ensure that each post is engaging by incorporating visuals, using subheadings, bullet points or numbered lists when appropriate. Make sure each post is informative and easy-to-read by using subheadings, bullet points, or numbered lists when appropriate.
Incorporate Visuals
Add relevant images or videos within the text of your content whenever possible.  As a result, they can make it visually appealing while providing additional information for readers who prefer visual learning.
Optimize Your Content for SEO
Keywords:

 Conduct keyword research using tools like 

Google Keyword Planner

, then strategically incorporate those keywords into headings and throughout the body text without overdoing it (also known as "keyword stuffing").

Title Tags & Meta Descriptions: Optimize title tags (<title>) and meta descriptions (<meta name="description">) with relevant keywords so search engines know what each page is about.

H1 & H2 Headings: Use H1 and H2 headings to break up your content into sections, making it easier for both readers and search engines to understand the structure of your page.

Internal & External Links: Include internal links to other pages on your website as well as external links to authoritative sources that support the information you're providing. This not only adds credibility but also helps with SEO by showing search engines that you have a comprehensive understanding of the topic at hand.
5. Monitor Your Progress
Keeping track of your local SEO efforts is crucial to ensure that you are making progress.  In addition, achieving the desired results for your moving company. By monitoring your performance, you can identify areas where improvements are needed.  Furthermore, make necessary adjustments to optimize your strategies moving forward. In this section, we will discuss some essential tools and metrics to help you measure the success of your local SEO campaign.
Analyzing Traffic with Google Analytics
Google Analytics
 is a powerful tool that allows you to monitor various aspects of website traffic, such as user behavior, demographics, and sources of traffic. To effectively analyze the impact of your local SEO efforts on generating leads for your moving company:
Create a custom report focusing on organic search traffic from users in specific locations relevant to your business.

Monitor key metrics like bounce rate, average session duration, pages per session, goal completions (such as quote requests), etc., which indicate user engagement levels.

Evaluate changes in these metrics over time after implementing different optimization strategies or content updates.
Tracking Keyword Rankings with Local Rank Trackers
In addition to analyzing overall website performance through Google Analytics data insights, local rank trackers, such as SEMrush or Ahrefs' Local Rank Tracker tool can provide valuable information.  For example, how well individual keywords related to moving services perform within specific geographic regions. Regularly tracking keyword rankings enables you:
To assess whether targeted keywords are improving their positions in search engine result pages (SERPs) over time,

To identify new keyword opportunities that could generate more local leads,

And to make informed decisions about content optimization and link-building strategies.
Conclusion
In conclusion, optimizing your website for local search, utilizing social media platforms, leveraging online directories, creating quality content, and monitoring your progress are all important steps to improve the local SEO of your moving company. By following these strategies, you can increase visibility in local search results and attract more potential customers.
Local SEO is crucial for any business that wants to succeed in today's digital world. If you want to take your
moving company digital marketing
and online presence to the next level, then
contact us
at
Anytime Digital Marketing
 today!