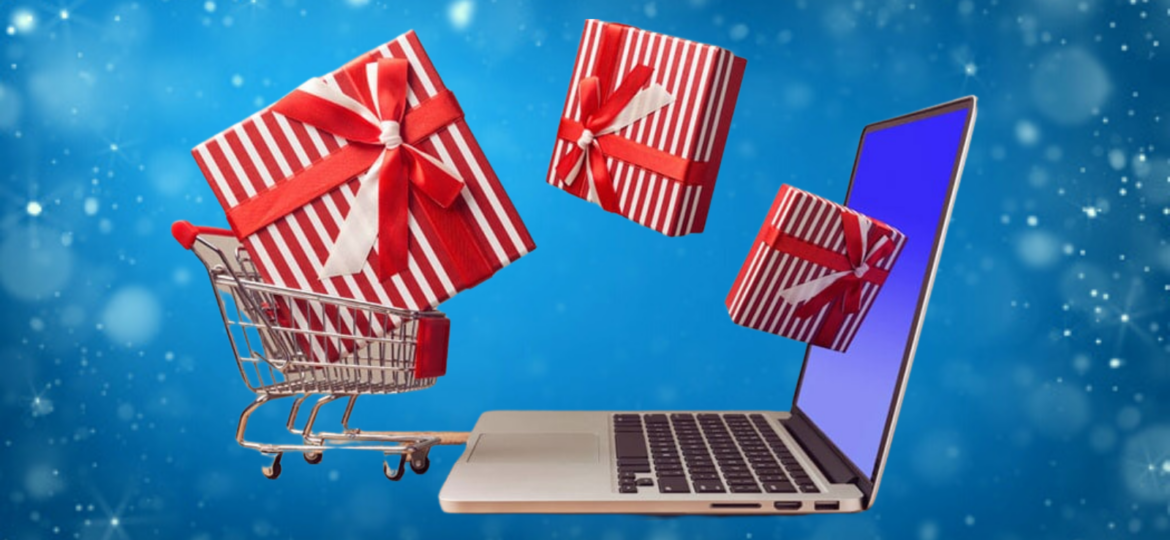 As the holidays approach, many ecommerce business owners are wondering what they need to do to prepare. While holiday marketing can seem daunting, it doesn't have to be. In this guide, we'll outline some of the best digital marketing practices for maximizing your sales during the holiday season. So whether you're just getting started or you're looking for new ideas, read on for tips that will help you reach your target audience and boost your bottom line.
eCommerce Holiday Digital Marketing Guide
ECommerce stores have continued to grow in popularity and profitability in recent years.  Thanks in large part to the advent of digital marketing. By creating a campaign specifically for the holiday season, eCommerce store owners can take advantage of the increased traffic.  In addition, all of the spending that occurs during this time of year. Statistics show that eCommerce sales reached $5.55 trillion globally in 2022. And, are projected to grow to $6.17 trillion by 2023. Clearly, there is a huge potential for ecommerce store owners to boost their sales during the holiday season.
November and December are historically the busiest months for ecommerce sales.  Therefore, savvy store owners know that this is a crucial time to boost their digital marketing efforts. There are a number of reasons why ecommerce stores see such a spike in sales during the holidays. First, people are generally more inclined to shop online during this time of year as they search for gifts for friends and loved ones. Second, many ecommerce stores offer special holiday deals and discounts that entice shoppers to make a purchase. And finally, the holiday season is generally a slow period for brick-and-mortar businesses.  Therefore, ecommerce stores have less competition during this time.
For all these reasons, it is essential for ecommerce store owners to take advantage of the holiday season to market their businesses online. By doing so, they can boost their sales and secure a larger share of the ecommerce market.
Crafting a Holiday digital marketing campaign
When crafting a digital marketing campaign for the holidays, it is important to focus on creating ads that are relevant to your target audience. And, that stand out from the competition.  To set up an ecommerce holiday digital marketing campaign, you will need to create a landing page.  In addition, design some promotional materials, and choose the right online platforms to reach your target customers.
The Landing Page
When it comes to ecommerce, a holiday digital marketing campaign is not complete without a landing page. This is the page where customers will "land" after clicking on an ad or promotional message. The goal of a landing page is to convert visitors into customers by providing them with a clear and concise path to purchase. To do this, landing pages must be well-designed and include targeted content that speaks to the needs of the customer. Additionally, landing pages should include strong calls-to-action and enticing offers that will entice users to make a purchase.
Some examples of things that may be included on a landing page for an ecommerce holiday digital marketing campaign include:
Special holiday discounts:
There are a variety of ways to do this, and the best approach will depend on the products and services you sell. However, some common examples of holiday discounts include percentage-off deals, free shipping offers, and buy-one-get-one-free promotions.  ECommerce store owners could also offer holiday-themed discounts, such as a "12 Days of Christmas" promotion where customers receive a different discount each day for 12 days.
Free shipping offers:
One way to stand out from the competition is to offer special holiday free shipping deals to customers.  For example, you could offer free shipping on all orders over $50 or give customers a discount on their shipping charges.  Offer this if they spend a certain amount of money on your ecommerce store. You can also use free shipping as an incentive for customers to sign up for your email list or join your loyalty program.
Limited time deals:
Another effective strategy is to offer special holiday limited time deals. For example, a store might offer a 20% discount on all purchases made between Thanksgiving and Cyber Monday. Or, a store might offer free shipping on all orders placed before December 25th. By offering these limited time deals, ecommerce stores can convince shoppers to buy sooner rather than later.
Giveaways:
Offering special holiday giveaway offers is another strong way to reach new customers to your ecommerce store.  For example, an ecommerce store selling eco-friendly home goods might offer a free reusable water bottle to shoppers.  This can be done by subscribing to the ecommerce store's email list during the holiday season.
By including these types of offers on your landing page, you can increase the likelihood of converting visitors into customers.
The Best Holiday Advertising Platforms for Ecommerce
eCommerce businesses have many options for online advertising networks to choose from to market their products for the holiday season. Here are some examples of popular networks and how they can bring sales:
Facebook
With over 2 billion active users, Facebook is one of the best places to reach a large audience with your eCommerce holiday marketing campaign. You can create targeted ads that appear in users' news feeds, and you can also use Facebook's powerful targeting options to make sure your ads are seen by the people most likely to convert.
Instagram
This visual social network has over 800 million monthly active users, making it another great option for eCommerce holiday marketing. Instagram ads can be highly effective in driving traffic and sales.  And, you can use the platform's extensive targeting options to make sure your ads are seen by your target audience.
Pinterest
This visual social network is a great place to promote eCommerce products, as it has over 200 million monthly active users. You can create beautiful ads that stand out in users' timelines, and you can target your ads to reach the people most likely to be interested in your products.
Google Ads
Google Ads is a powerful tool for targeting potential customers with ecommerce ads. However, it can be expensive in comparison to Facebook. And, businesses need to be careful not to overspend on their holiday campaigns.
Twitter
Twitter is a great platform for reaching a wide audience with holiday marketing messages. However, the short format of tweets can make it difficult to convey complex messages or offer detailed product information.
TikTok
TikTok is a relatively new platform but it has already proven to be highly effective for reaching young audiences. However, as with Twitter, the short video format can make it challenging to provide detailed product information.
Each of these online advertising networks has its own advantages and disadvantages.  Therefore, ecommerce businesses should carefully consider which one is right for their holiday digital marketing campaigns. By taking the time to plan and execute their campaigns carefully, they can maximize their chances of driving sales during the most important time of the year.
Creating Festive Ads
A festive ecommerce advertising campaign is one that uses the holidays as a theme to promote products or services. For example, an online retailer might create a holiday-themed ad campaign featuring images of gifts, festive decorations, and holiday greetings. The colors used in the ads would likely be red and green, the traditional colors of Christmas. The text might include holiday-themed messages such as "Wishlist for Santa" or "Happy Holidays from our family to yours."
One ecommerce company that excels at holiday advertising is Amazon. During the holidays, Amazon ups its advertising game by featuring holiday-themed ads across all its platforms, from its website to its social media channels. The ads are always cheerful and feature images of people enjoying the holidays with family and friends.  Another example was Target's "12 Days of Deals" campaign, which featured colorful graphics and text highlighting the retailer's daily deals.  Here are some holiday example ads from a couple of different ecommerce stores.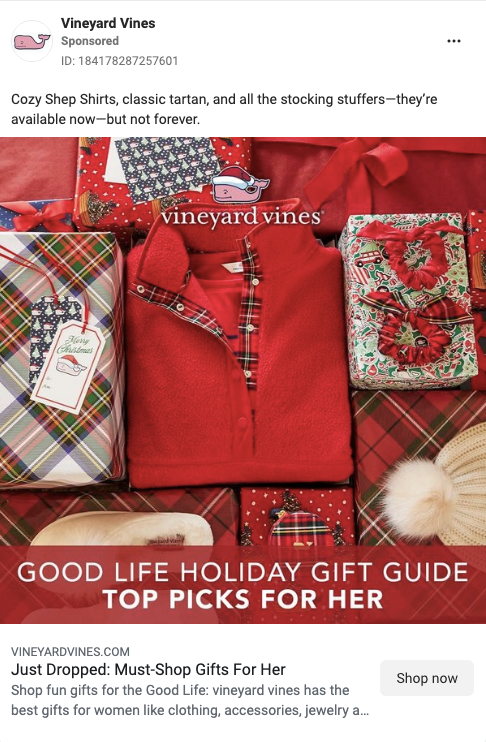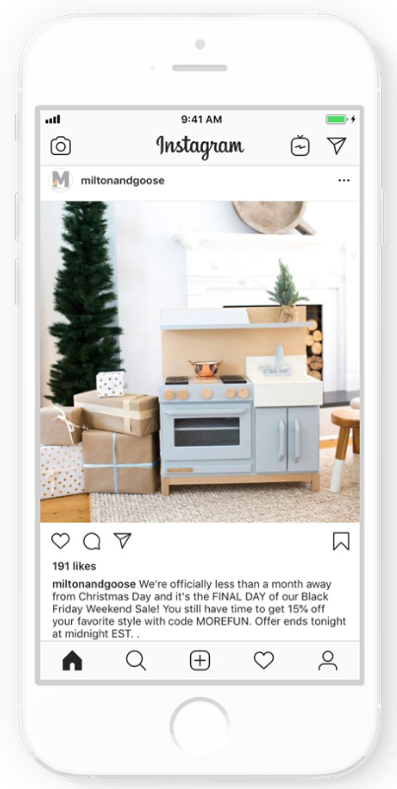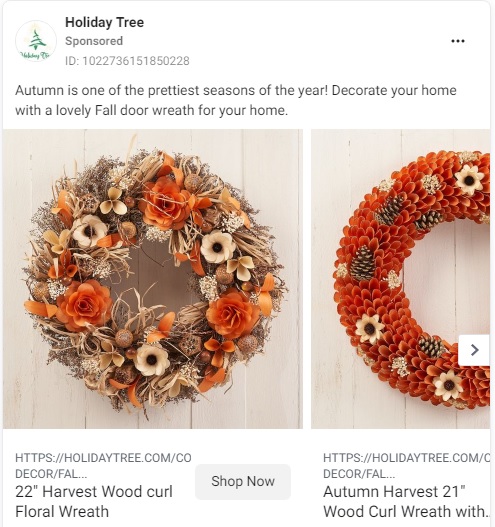 So, what makes a good holiday ad? First of all, it should be visually appealing, with festive colors and images that stand out. The text should also be clear and concise, highlighting any special deals or offers that you're running. And finally, it's always a good idea to include a call-to-action that tells people what you want them to do, whether it's "click here to buy now" or "visit our website for more information."
Tracking your holiday marketing success
Ecommerce stores need to track their holiday digital marketing campaigns to ensure they are successful.  Tracking key metrics like website traffic, conversion rates, and social media engagement is important.  This allows eCommerce store owners to identify which campaigns are driving sales and which ones are falling flat. This information is essential for making informed decisions about future marketing efforts. Additionally, tracking can help store owners understand customer shopping habits and make necessary adjustments to their inventory and pricing. Without tracking data, ecommerce stores are at a disadvantage when it comes to understanding how customers shop during the holidays.
ECommerce Tracking Tools
Google Analytics
eCommerce stores have a few options when it comes to tracking their holiday digital marketing campaigns. One is through Google Analytics. Google Analytics can show eCommerce stores what keywords are driving traffic to their site, what ad campaigns are working, and what pages are being viewed the most. In addition, eCommerce stores are able to see if their holiday digital marketing campaigns are resulting in sales and conversions.
Heat Mapping
Heat mapping tools show eCommerce store owners where visitors are clicking on their website. This information can help eCommerce store owners understand what parts of their website are working and what needs to be improved. Some eCommerce store tracking tools even allow store owners to track how long visitors are spending on each page. This information can be used to improve the overall user experience on an eCommerce website.
A/B Testing
A/B testing is a method of comparing two versions of a digital marketing campaign to see which one performs better. ECommerce stores can use A/B testing to test different aspects of their holiday digital marketing campaigns.  For example, the copy in an ad or the design of a landing page.  By tracking the results of the A/B tests, ecommerce stores can fine-tune their campaigns for maximum effectiveness. In today's competitive holiday market, A/B testing can be the difference between a successful campaign and a flop.
Holiday Campaign Starting Dates
ECommerce stores should start their holiday digital marketing campaigns in October and continue through the New Year. Store owners need to take advantage of all the holidays in November and December.  They should start with Halloween, then move on to Thanksgiving and Black Friday sales. In addition, eCommerce stores should participate in Cyber Monday and Green Monday sales.
ECommerce store owners can use October to plan their holiday digital marketing campaigns.  In addition, create a calendar that includes all the important dates. They should also start to build hype for their holiday sales in October by using social media, email marketing, and blog posts.  As a result, starting a buzz about their holiday promotions.
Another thing eCommerce store owners need to consider, includes thinking about what products they are going to promote during the holiday season. Store owners need to make sure they are prepared for the holiday rush and have enough inventory to meet customer demand.  In addition, eCommerce stores should also have their customer service team ready to handle any issues that may arise during the holidays. Furthermore, they should consider creating a holiday gift guide to help customers find the perfect gifts for their loved ones. October is the perfect month to start planning their holiday digital marketing campaigns and get a head start on the competition.
Keep on Eye on the competition
As the ecommerce landscape continues to grow and evolve, it's more important than ever for businesses to keep an eye on the competition. This is especially true during the holiday sales season, when everyone is scrambling for a share of the pie. Here are some things ecommerce stores should look out for from their competitors during this busy time of year:
Aggressive digital marketing campaigns: your competitors will be upping their game in terms of online advertising and promotions, so make sure you're prepared to fight for your share of the market.
Special deals and offers: keep an eye out for any special deals or limited-time offers that your competitors may be running. These could eat into your own sales if you're not careful.
New product releases: if your competitor is launching any new products during the holiday season, this could potentially steal some of your thunder. Stay on top of their product releases and make sure you've got something equally as appealing to offer customers.
In addition, ecommerce owners should be on the lookout for:
What kind of eCommerce platform is your competitor using? Is it user friendly? Can customers easily find what they are looking for?

What kind of digital marketing campaigns is your competitor running? Are they running ads on social media? Pay-per-click ads? Display ads?

How often is your competitor running promotions and discounts? Are their prices generally lower than yours?

What is your competitor's shipping and return policy? Do they offer free shipping? Are returns easy to make?

Is your competitor's customer service responsive and helpful? Do they have a live chat feature on their website?
Conclusion
The holiday season is a time when ecommerce stores can really shine and make a lot of money. However, in order to have a successful holiday season, there are some things that store owners need to do. First, they need to ensure that their website is optimized for the holidays. This means making sure that the website is running smoothly and that all of the pages are loading quickly. They should also consider doing some A/B testing on their homepage and product pages to see what works best with shoppers. Additionally, store owners should focus on creating engaging content that will capture shoppers' attention. This could include blog posts, videos, or even social media posts. And finally, it's important to keep an eye on your competition and make sure that you are offering the best deals possible. If you follow these tips, you should be able to have a successful holiday season and increase your sales!